Winter brings out a whole new kind of beauty at C Lazy U Ranch. A layer of immaculate snow forms a soft, white blanket over the pastures and hills. Fluffy clouds wreath the frosted Rocky Mountain peaks and accentuate the brilliant blue of the wide-open Colorado sky. It's quiet and calm, and the warmth of a roaring fireplace is never too far away. Here you can step into the idyllic winter wonderland of a Norman Rockwell painting – but just stepping into this serene, snow-covered heaven wouldn't quite do it justice, would it? At C Lazy U Ranch, we want your experience of the authentic American West to be truly magical, and one of the most enchanting experiences our guests can have is a wintertime ride on our horse-drawn sleigh.
Sleigh Bells Ring
From mid-December until March or April (weather allowing) C Lazy U offers two-horse-drawn open sleigh rides through the fields of our 8,500-acre slice of heaven. Up to 12 guests at a time can sit in our brand new sleigh and experience the wide-open majesty of our powder-coated grazing pastures. Bring your favorite toasty beverage from Chef Cory's kitchen and bundle up with one of our cozy blankets, provided to all sleigh riders. Sleigh rides are available from 11 AM to 2:15 PM on any day the horses are in from the pasture.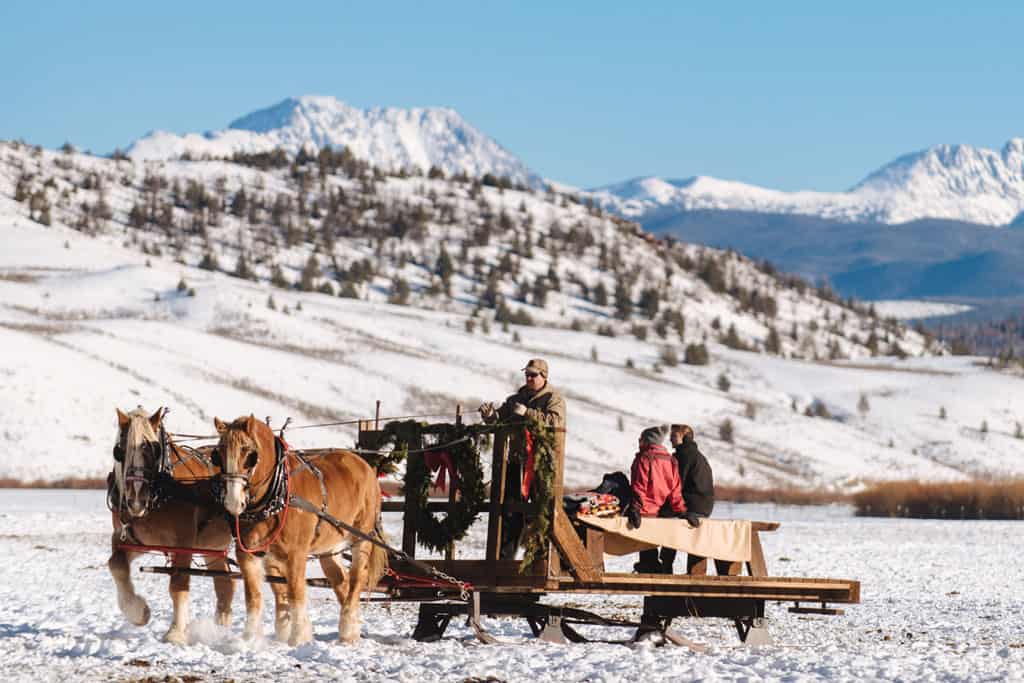 And just who will be providing the horsepower for this snow-covered journey? On your ride, you'll get to know one of our two expert sleigh teams: our Haflinger draft pony team, Sam & Tom, or our draft Belgian mare team, Annie & Oakley. Sit back and relax as these stoic animals draw you through a sea of snow in style. It's truly an unforgettable adventure.
Sign up on-site at the new-and-improved Outfitters' Cabin.
A Wagon Full of Winter Fun
Don't forget about rides on our Feed Wagon! On days when our incredible herd of 200 horses aren't brought in for trail rides, they still need to be fed – and you can get up-close-and-personal with these gorgeous animals as they receive their morning hay from our Feed Wagon. This unique offering gives you a front-row seat and insider insights into how our wonderful hooved friends live, play, and interact while off-duty. And be sure to keep an eye out for local ranch celebrities, Tilly, Wilbur, and Petey, our resident miniature donkeys!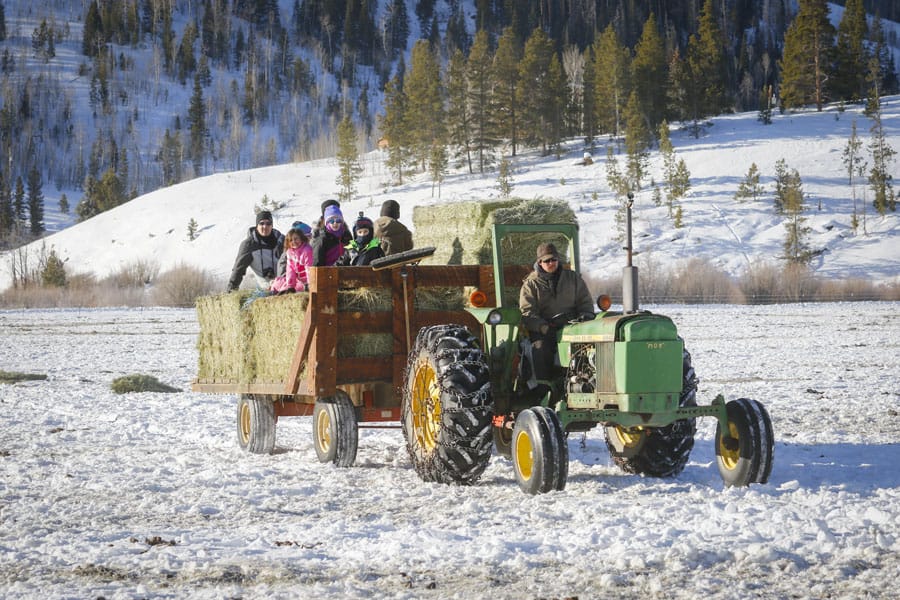 Sign-up for this event is also available at the C Lazy U Outfitters' Cabin.

Plan your winter escape today, and see why Condé Nast named C Lazy U is one of the top resort destinations in the world. Contact us with any inquiries, and come take part in the best winter activities that Colorado has to offer!
Ask Us About Your Next Luxury Dude Ranch Vacation