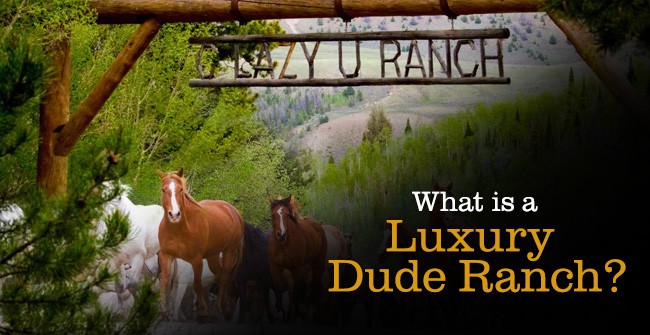 Dude ranches don't have to feel like an outdated summer camp. At an all-inclusive luxury dude ranch, you won't find creaky bunks or cafeteria food. Instead, you'll experience top-notch accommodations and gourmet meals.
C Lazy U has mastered rustic luxury and superior service in the remote Rocky Mountains of Colorado. Yes, five-star luxury is possible on a dude ranch. All it takes is one chef-inspired meal, one night's sleep in our rustic-elegant cabins, and one visit to the Lazy You Spa, and you'll get it. You'll see what makes us an award-winning resort with a dude ranch heart.
Wining and Dining
Who says cowboys don't have refined palates? You may be on a ranch, but our chef has brought his gourmet sensibilities to our kitchen. A stay at C Lazy U includes three gourmet meals each day. This is no ordinary backcountry fare; menus feature all sorts of local specialties, like house-made meats and Rocky Mountain wild game. Getting outdoors in the mountains is fun, but you may secretly decide that the decadent lunch offerings and the four-course dinner are the highlights of the day.
Every ranch dinner feast deserves a fine wine to go along with it. Not sure which red goes best with elk? Not to worry. The in-house sommelier Shelby will set you straight with a wine tasting. She comes to us from the California wine region, where she earned her Master Court of Sommeliers certification and graduated from the Napa Valley Wine Academy. Along with wine and food pairing suggestions, she'll give a history lesson that really makes the flavors come to life.
Ahhhh, the Spa
Your muscles might get achy from all the great outdoor activities you're participating in on the ranch, so indulge in the luxurious side of our luxury dude ranch with a trip to the Lazy You Spa.
Our treatment menu is packed full with all your favorite traditional spa treatments, with a little ranch twist. During the warm weather months, the full-service Lazy You Spa is set up in tents located in a beautiful field along a rolling creak. Not only are you surrounded by nature, but you can gaze through the glass floor at the trickling waters of Willow Creek as you're mid-massage. Combine that with a few other special touches, such as matching his-and-hers copper tubs with a view, and you've got the makings of a truly luxurious mountain spa experience.
Rustically Elegant Cabins
You may have heard the phrase "rustically elegant" thrown around to describe our cabins. What exactly does that mean? Well, we've taken the best of "rustic" design (think traditional log structures, hardwood finishes, exposed rafters, and warm stone hearths) and combined them with a mountain luxury aesthetic.
You won't find drafty bunk houses at C Lazy U. Instead, our private cabins are furnished with plush furniture facing a toasty fire, a supply of firewood tall enough to last all night, local artwork gracing the walls, and thick Persian rugs to tie the space together. It's your relaxing home away from home, inspired by the mountain horizons and wild west culture just outside the door.
A stay on a dude ranch doesn't mean "roughing it." We've busted that myth. So bring your finest flannel and jeans, and dust off your best cowboy boots. C Lazy U is a casual cowboy retreat with just the right touch of luxury.