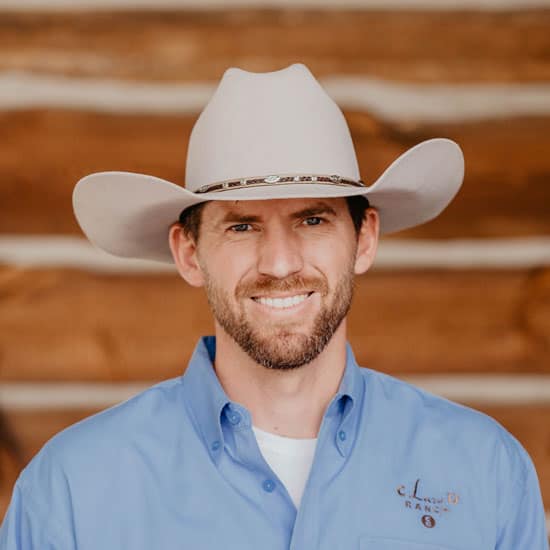 While C Lazy U dude ranch honors authentic wild west tradition and adventure, taming the running of the ranch is anything but easy. After over 10 years at C Lazy U, General Manager Dave Craig is officially handing the reins to Paul Klees. In his tenure at the ranch, Dave has exemplified true leadership. Through COVID, the East Troublesome fire, and everything in between, Dave led the team with grace and ensured that C Lazy U remained the premier luxury guest ranch in the West. As we say "see you later" to Dave and welcome Paul into his new role, we're sharing a behind-the-scenes look at the ranch's new head honcho.
More Behind The Scenes Content: Meet Our Veterinary Care Manager
From Wrangler To GM
Paul has been a part of the ranch since 2007, when he took a seasonal job as a wrangler. In May of 2008, Paul became a year-round employee and worked as the Assistant Head Wrangler. Later, he moved into Project management. In this role, he worked closely with the concierge team in the Outfitters Cabin and gained plenty of hands-on experience with booking and guest satisfaction. Next, he became the Director of Operations, where he managed the Barn and Maintenance departments as well as the Big Game Outfitters program. In 2018, Paul became the Assistant General Manager and has worked closely with Dave ever since.
What Does The General Manager Of A Dude Ranch Do?
GM duties are far-reaching and cover everything from the Outfitter's Cabin, the Barn, Food & Beverage, Capital Projects, and Big Game. In addition to overseeing most of the ranch's departments, the GM's biggest responsibility is far less tangible: preserving the unique experience that has made C Lazy U a favorite (and award-winning) vacation destination for families, couples, corporate events, weddings, and more. Paul will take the lead in helping the ranch stay true to its authentic western roots while evolving and complementing it in ways that make the ranch sustainable and relevant for the next generation.
Looking To The Future
As such a longstanding member of the C Lazy U team, Paul is excited to take on this next chapter. In his new role, he's excited to continue nurturing the C Lazy U legacy while looking for opportunities to add new experiences for future guests. He's also looking forward to continuing to work with the amazing team members who make C Lazy U such a special place.
Get To Know Paul
Want to learn more about Paul? We asked him to share a bit more about what he loves about ranch life and some of his favorite memories.
What's Your Favorite Thing About The Ranch?
"I have really grown to love hospitality, but the true value of C Lazy U is the people. Our staff, guests, and members make for an experience that you can't replicate anywhere. I have been blessed with meeting some amazing people that I would call family. In addition to the people, I really enjoy the ranch land. There is something special about being able to steward and protect the land for future generations."
What's Your Favorite Ranch Memory?
"Over 15 years there are so many great memories of being a part of the C Lazy U family. It's these same memories that keep us coming back. A couple that stick out in my mind was the day the ranch reopened after the East Troublesome Fire. Seeing our team, members, guests, and community come together and work through adversity was a true testament to the people around the C Lazy U brand. More recently, being able to share my family and newborn baby with the guests, staff, and members who have become like family to me over the years has been incredible. A few memories that I can't get enough of: hosting Woodsie breakfast and serving cowboy coffee, being out in the woods during hunting season, the jingle, being MC for the Shodeo & 4th of July Parade, seeing the little kids run after Santa on Christmas eve, and that one time I rode a bull in the indoor arena."
As both Dave and Paul prepare for their new adventures, Dave had one last thing to say about Paul and the future of the ranch:
"The beauty of the role is that it changes every day, which is the wonderful part of the job. Ultimately it is the General Manager's responsibility to define and articulate a vision of service excellence. It is then incumbent upon the GM to ensure that the team understands the vision and has the tools and training necessary to be successful. Paul will do an excellent job of monitoring the pulse of the ranch. He will be present to support the team and will undoubtedly continue to refine and enhance the service experience and guest amenities. Paul has an exceptional team working under him and they will work diligently to ensure his success and that of C Lazy U Ranch."