Guest Post by Cathy Woods, Cowgirl/Yogini
Often, yoga is thought of as "a form of stretches done on a mat", but actually, yoga is so much more. Much of what is practiced on the mat and in yogic lifestyle are simply "metaphors for living," and….for horsemanship.
In my 26 years of yoga teaching/retreat leading around the country and as an avid trial rider owning horses, I've come to experience the parallels of the practices and see they are really not so different. Through this awareness was how I created Body, Mind, Equine – which will be offered May 2017 at C Lazy U.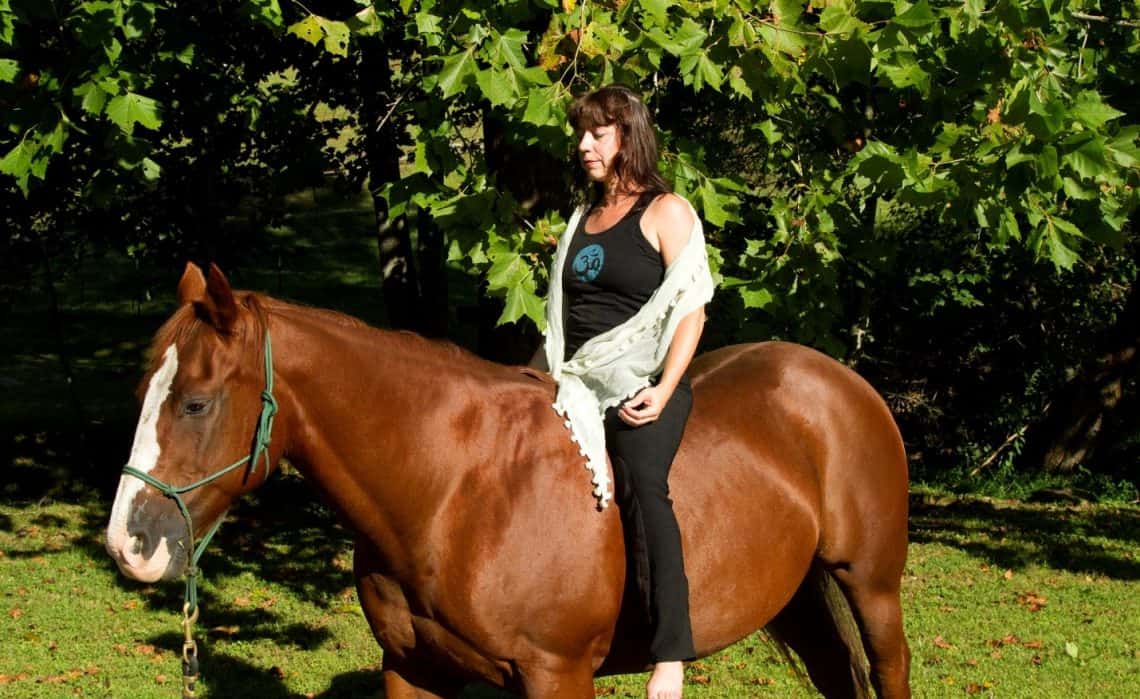 Here are a few things we should be doing on the mat in proper/authentic yoga practice. If you examine them, you'll notice they can also apply to horsemanship from ground to saddle.
Be in the present moment, where life is happening. Multi-tasking takes us away from the present. Use breath and bodily sensations as tools to stay harnessed in the present. A horse takes every step into the present moment. Take that step with him.
Bring consciousness to your overall awareness, body/breathing, present moment, and energy awareness.
Breathe through challenges; move with the breath, and not against it.
You can often do more than the mind thinks you can do.
Be aware of energy shifts within yourself, your horse, and your surroundings.
Move with as much grace in a situation or yoga posture as possible, even when challenged.
Be accepting, working from where you are on that mat and with your horsemanship.
Stay balanced in all that you do in your life, not just physically. Balance inner and outer.
Slow down.
Be aware of where your body is in space and time. Notice bodily sensations, alignment, strength, and flexibility.
Drop expectations and free up energy for better use.
Watch the mind chatter, but do not buy into it.
Stop and experience the sensations and energy after a yoga stretch. Stop, experience, and celebrate after an accomplishment on your horse.
We come to know ourselves better through yoga, and so too with horsemanship. The yoga mat is a training ground for horsemanship and for life.
Copyright: Cathy Woods Yoga 2013
Please join us May 11-14, 2017 for our special weekend retreat, Find Your Inner Cowgirl with Body, Mind, Equine: 3- Night Women's Retreat with Cowgirl/Yogini Cathy Woods.
Learn more about Body, Mind, Equine: A horse & yoga retreat.
Hurry, there is only 1 spot left for this event!
About the Author
Cathy Woods, Cowgirl/Yogini
Cathy teaches yoga as an "awareness practice" to be used on and off the mat. In addition, she leads a program called, Body, Mind, Equine, combining her passions of yoga and horsemanship. Though Cathy does not claim to be a riding instructor or horse trainer/clinician, she does teach how yogic principals can be used to improve one's horsemanship to become a more aware and conscious rider.