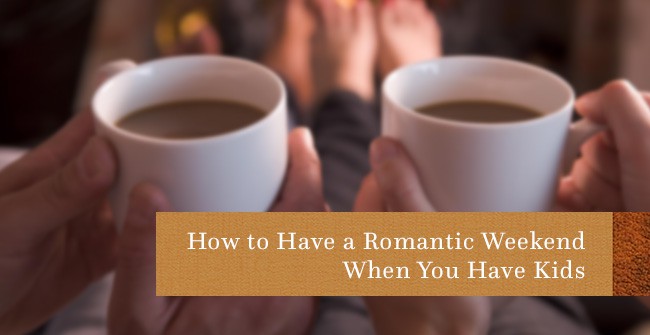 Having young kids doesn't mean that parents need to give up celebrating a romantic Valentine's Day (nor do you have to rely on the grandparents to take the tykes). Make Valentine's an extra special event by planning a fun mini getaway that the whole family will enjoy and that is specifically designed to give you and your partner some alone time. By selecting the right destination and activities everyone will be happy and entertained.
While you're likely used to planning a family trip, putting the adults first (or at least a little toward the top of the priority list) may change the way you plan and book this weekend getaway.
Pick the perfect location
While the kids likely love the idea of going to Disney World, unless it's your idea of a fun and romantic time save that trip for later. Instead, opt for a getaway that appeals to you as much as it will your children. Love skiing? Want to relax at the spa? Enjoy being outdoors? Identify what you and your partner like to do then build your trip around that.
To make sure the kids also have fun (and give you some peace and quiet) choose a trip that will give them enough to do as well. While you may have always dreamed of going to New York City, if your 7 year old won't enjoy walking the city or appreciate the cultural significance and happenings you'll all end up annoyed and unhappy. That's not the perfect recipe for a romantic trip.
Plan for some alone time
In addition to selecting a trip that you want to take but that the kids will also enjoy, be sure you opt for a destination that will provide the parents will a little (or a lot of) alone time. Many resorts offer babysitting or a kids program to watch the kids while you go off on your own couples-only adventure for a few hours. Determine how much time you'd like to spend as a family and how much you'd like to do your own thing then make sure the provided child care options will allow you to achieve those goals. Some will cover you only for a quiet dinner, others will keep the kids occupied all day and well into the evening so you can do some activities then enjoy an adult-oriented evening meal.
Carefully consider housing
Forget the double beds in a single room. The key to getting some quiet alone time (emphasis on quiet and alone) is a separate kids bedroom. Whether you opt for a hotel suite, connected rooms, or an entire house/cabin, making sure the kids are asleep behind their very own closed door will give parents the privacy they need to make this getaway a romantic one.
Bonus points if the adult room has a romantic fire place!
Think about yourself when packing
When packing for a trip, so much of the focus is on making sure the kids have what they need. This time around start a few days early or simply start by packing for yourself first. Think about the types of activities you're going to be doing and make sure you have the right outfits. Going out to a nice dinner? Spending a chilly evening under the stars? Have a dress or shirt that always makes you feel really good or that the spouse loves? Make sure it all makes it into the suitcase.
This time around take a few extra minutes to make sure you remember the hair dryer and straightener, your favorite cologne and whatever makeup or nail polish you'd want when getting dressed up. Remember, this trip is about you as a couple as much as it's a fun family getaway. And don't forget to wrap and pack the Valentine's present or card if you're exchanging gifts.
Only once all your stuff is safely packed should you address packing for the kids. Let's be honest, as long as they have weather appropriate clothes they probably don't care if they wear the same outfit three days in a row. Make sure they have all the basics, a spare set of fundamentals and any must-have travel and sleeping toys and you're all set. It's only a weekend after all.
The perfect Valentine's Day getaway
C Lazy U luxury dude ranch provides a special Valentine's weekend getaway for the whole family that will keep the kids busy and give the adults plenty of time to relax and enjoy each other's company. C Lazy U is specifically designed to have kids three years and older off on their own in supervised play groups with kids their own ages. Activities are age appropriate, from story time and scavenger hunts to horseback trail rides. They kids are off having their own fun all day and through the dinner hour.
These leaves parents free to truly enjoy their own preferred activities. From going on a snowmobile tour to soaking in copper tubs at the spa and taking a romantic, snowy horse drawn carriage ride cuddled up under a blanket, C Lazy U has something for everyone. Then top the day off with a quiet, kids-free meal prepared by the ranch's gourmet chefs – no boxed macaroni and cheese here!
Because C Lazy U is set up for family friendly vacations all year long the ranch is perfectly equipped to handle the needs of full families – both the adults and children. Many of C Lazy U's luxurious cabins have two or more bedrooms to ensure everyone has their own private space. Select rooms also come with fireplaces for added romance.
Skip the stuffy dinner and crowded restaurants. Make this Valentine's Day a treat for the whole family and a romantic occasion for you and your partner by taking a memorable trip the entire family will really enjoy.