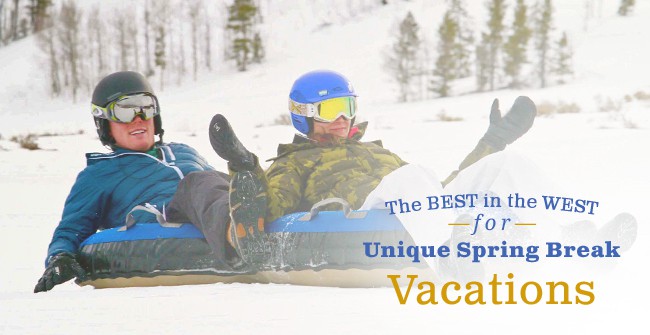 A week of relaxation, fun and a carefree attitude: that's what spring break is for. But kids and teens shouldn't be the only ones to benefit, since parents often need a break too! While some families are away on their own spring break vacations, take part in a special spring break for families in the beautiful Rocky Mountains — and not at the beach.
National Park Adventures
One of America's greatest treasures is its nature, boasting dozens of national parks and protected areas. Of the 59 national parks, 31 are located in the western United States, making a spring break trip through some of America's finest sights a great option for nature lovers. California has the most national parks, including the famous Redwood, Yosemite and Death Valley, which is shared with Nevada. Colorado itself is home to four: from north to south, they include Rocky Mountain (adjacent to C Lazy U Ranch), Black Canyon of the Gunnison, Great Sand Dunes and Mesa Verde National Parks. Take a tour of America's untouched beauty for spring break, and you'll truly feel in touch with nature.
Spa Rejuvenation
The beach provides rest and relaxation, but a spa can do it better. Spas are meant to soothe, with specialty treatments and careful attention of trained professionals that let all your worries wash away. Some of the top-rated spas are located in the west: nearly half of Conde Nast Traveler's recent winners of the Readers' Choice Awards for best spa were located here, including our own Lazy You Spa. For spring break, indulge yourself — take a tour of the best spas in the west to recharge for the rest of the year!
Tour the Vineyards
Spring kicks off the tourist season for vineyards, but it still won't be as busy as harvest season, which takes place from August–October. Nip off to Napa for a tour (and taste!) of the luscious wineries for which California's wine country is so renowned, or head to Colorado to sample some more unique flavors of the Rocky Mountains. Colorado wine tasting rooms can be found all over the state; Winter Park Winery is the closest spot to C Lazy U Ranch to enjoy the state's best varietals. While you're sipping on some of the best local wine, you can take in the breathtaking beauty of the vineyards along the Colorado River.
Head Down to the Dude Ranch
For more of the cowboy experience, it's best to head to a real, live dude ranch in the west. Dude ranch vacations are not just rough and tumble horseback riding and constant activity — they give you the chance to choose the kind of vacation you want to have. Spend hours in the spa, enjoying the ranch's rustic vibes, or hit the trails to feel like a Wild West explorer. Still, you won't have to lift a finger, as most dude ranches offer resort-like amenities — and C Lazy U Ranch offers some of the most luxurious amenities of all the dude ranches.