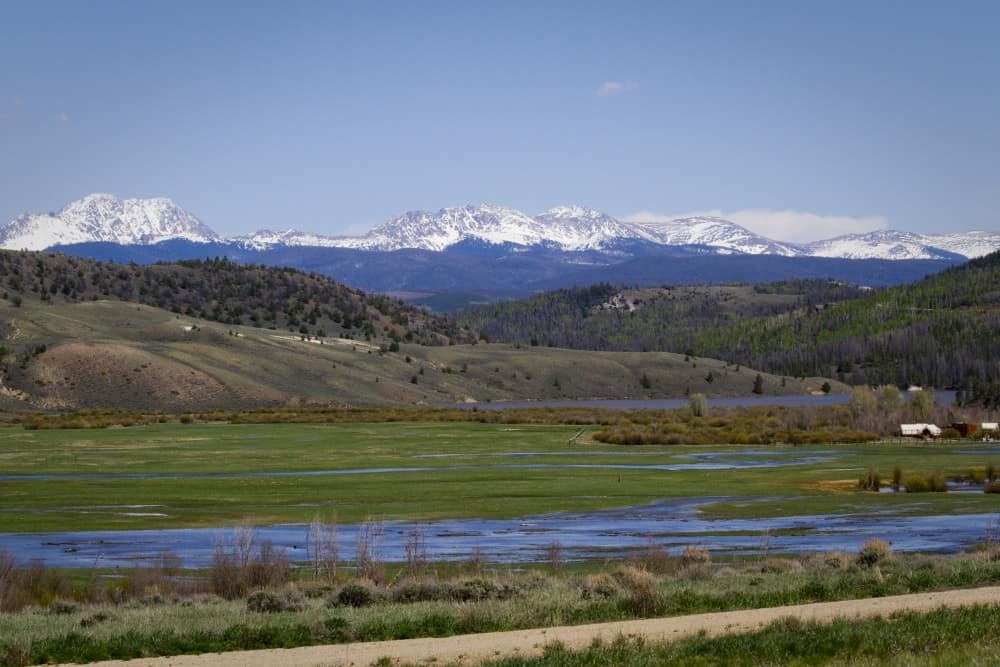 Colorado has been an extremely popular vacation destination for decades, and it's easy to understand why.
C Lazy U dude ranch in Colorado is located in the heart of the Rocky Mountains. Our all-inclusive ranch features first-class dining, luxury cabins, and some of the best Colorado outdoor activities.
Here are ten reasons why The Centennial State should be at the top of your vacation list!
1. The Mountains
Perhaps the most obvious reason to visit Colorado is our mountains – the majestic Rocky Mountains to be specific. With a total of 53 fourteeners, the mountains in Colorado are serious peaks. Located in Grand County, C Lazy U is adjacent to Rocky Mountain National Park, and is surrounded by the rolling hills and rocky crests of some of Colorado's finest formations, allowing guests to enjoy activities such as cross-country skiing, hiking, horseback riding and more.
Related: 5 Must-See Locations in the Rocky Mountains
2. Skiing
Speaking of skiing, the ski resorts that dot Colorado's Western Slope are among the best in the world. Winter Park Resort, located just fifteen minutes from C Lazy U, offers three peaks for skiing and snowboarding. Our cross-country skiing experience will be unforgettable for your next family vacation.
3. Beer
Known as the Napa Valley of Beer, Colorado is home to more than 200 breweries, including mass producers like Miller, Coors, and smaller microbreweries such as Breckenridge Brewery, Fat Tire and Flying Dog Brewery. C Lazy U supports local Colorado brewers by rotating a variety of seasonal selections on draught.
4. Spas
After a day of enjoying Colorado's active pursuits, a relaxing spa session is a great way to soothe your sore muscles. Located on the banks of the creek in the meadow, C Lazy U's Lazy You Spa brings the spa experience into nature. Its tented outdoor treatment rooms allow guests to breathe the crisp mountain air, and listen to water rushing down Willow Creek while enjoying unparalleled relaxation.
5. The Seasons
Some all-inclusive vacation spots are known for year-round warm weather, while others are known for beautiful representation of all four seasons. Colorado's weather, albeit unpredictable, is among its greatest attributes. From the blooming wildflowers of spring and warm sun of summer, to the red and yellow leaves of fall and the snowy wonderland that accompanies winter, Colorado enjoys it all – sometimes all in one day! We provide all-inclusive activities for all seasons and all ages.
6. Accessibility
The gateway to the West, Colorado is home to one of the nation's largest airports, and easily accessed via a number of highways. Denver International Airport is a major hub for airlines including United, Southwest, Frontier and Delta, making domestic and international travel easy. Even better, C Lazy U guests are often able to avoid the heavy mountain traffic found on I-70 near Eisenhower tunnel due to our northwest location.
7. Western Heritage
While the bustling city of Denver has received ample amounts of attention over the last few years, Coloradans still enjoy their Wild West heritage. C Lazy U encourages guests to enjoy western traditions through outdoor activities such as horseback riding, trap shooting, archery and fishing. Our Cowboy roots can also be found in nightly branding parties by the campfire, and summertime "Shodeos" for the little ones. Celebrating our 95th anniversary this year, C Lazy U has been a working ranch for decades, and we are honored to share our unique history with each of our guests.
8. Fly Fishing
From the roaring waters of the Colorado River to the meandering streams of Granby, fly-fishing in Colorado can't be beat. While the 35 species of both warm- and cold-water fish known within Colorado may lure you in, it's the trout that keep fishermen "hooked." C Lazy U offers guests a chance to explore the local waters, including private sections of the Fraser River, while being guided by a local fly-fishing expert. Our Orvis-endorsed fly fishing program allows guests the opportunity to learn from some of the area's finest fishermen.
9. Wildlife
Wildlife sightings in Colorado can be thrilling, whether it's a wild rabbit or massive moose that is spotted. The state boasts 24.5 million acres of forested landscape, and the most prominent – and harmless – wildlife spottings include deer, elk, foxes and other non-predatory animals. C Lazy U's 8,500 acres are home to a number of animals, from our ranch horses, llamas and ponies, to wild animals such as bears, moose and elk.
10. Active Lifestyle
Colorado is consistently ranked as one of the nation's healthiest and most active states, and vacations here often reflect it. C Lazy U's all-inclusive family vacations focus not only on luxurious lodging and dining, but also on uniquely Colorado activities: From horseback riding to snowshoeing, the health benefits of a C Lazy U vacation outweigh those of hanging around a pool; though we encourage that here too!
Ready to experience an all-inclusive vacation at an award-winning dude ranch? Contact us to book your stay!