For decades, C Lazy U Ranch's Kids and Teens Program has helped children from toddlers to teens build skill and have incredible adventures out in the American West. But, contrary to how it may seem, good old fashioned dude ranch fun doesn't just appear out of thin air – it takes a hard-working team to craft every experience and ensure the safety of every visitor. The leader of that team is Hattie Crosby, the manager and director of the C Lazy U Children's program, and an inspiring presence on the ranch.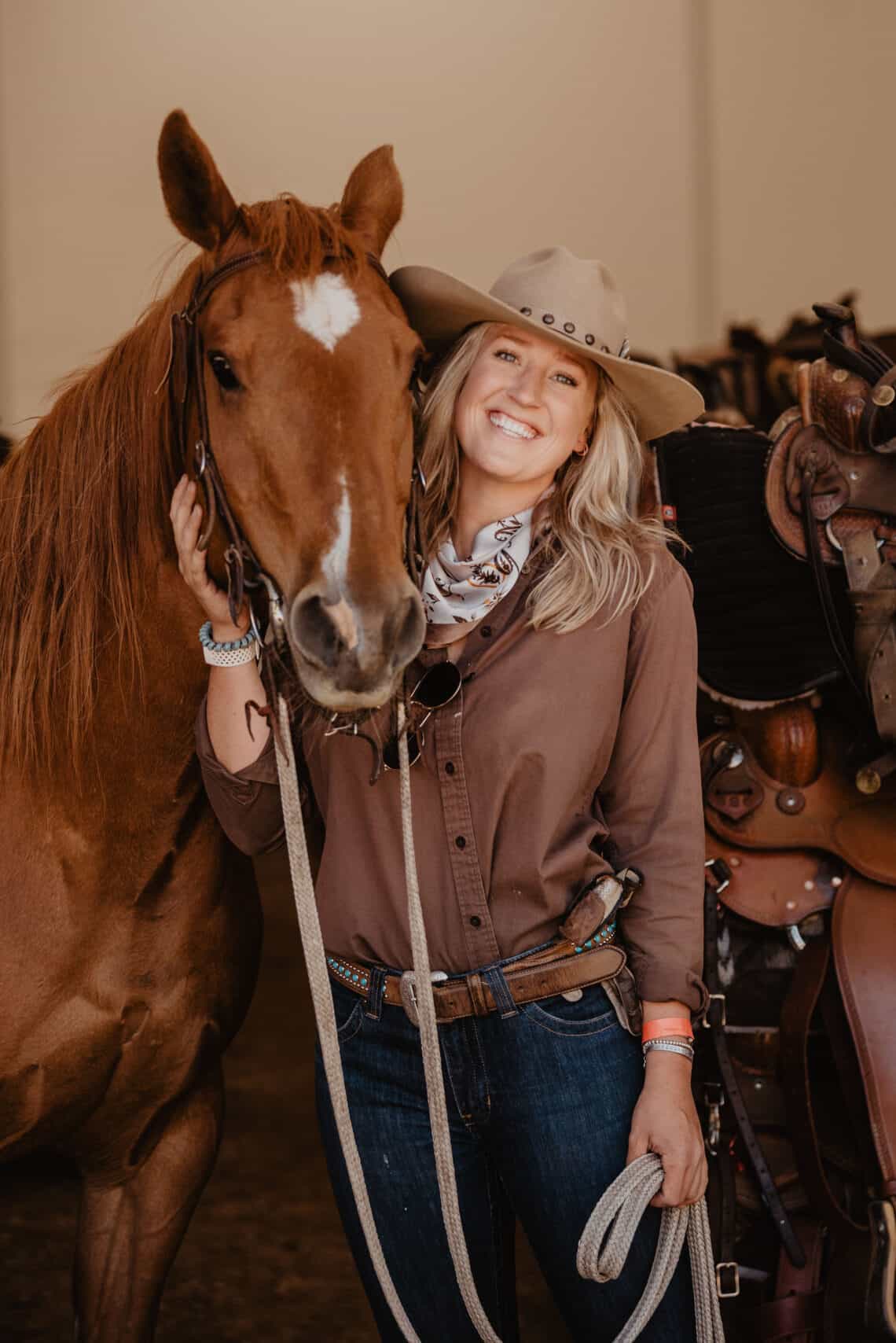 See Also: Behind the Scenes with Lisa Anderson
Meet the Manager of C Lazy U's Children's Program
Hattie Crosby was raised in Huntsville, Alabama. She grew up riding horses – leading to an affinity for all things in the great outdoors. Hattie graduated with a degree in business and marketing from Birmingham-Southern College in 2019, and was headed toward a professional career in marketing… but life had other plans. Hattie's father was diagnosed with a rare form of cancer, and her world was shaken. Mr. Crosby fortunately entered remission and is currently doing well, but the events forced Hattie to take stock of her life. She realized that life should be lived to help and give back to others, and in the summer of 2020 – following a recommendation from a high school friend – she became a kids' counselor and a member of the C Lazy U family.
Hattie started at the ranch as a kids' counselor, then became a wrangler, and now works as children's program manager. In her time at the ranch she has grown into a respected leader, and her responsibilities have taught her to trust herself and those around her, as well as to set pride aside and lean on other members of the staff when she needs help. She says it doesn't matter if you're an employee, a guest, or a member at C Lazy U – we really are all one big family!
What's a Typical Day Look Like in the Kids' Program?
If you're Hattie Crosby, there's no such thing as a typical day. Usually, she assembles the team, sends out rides, ensures the little cowpokes are safe, oversees pony and donkey cart rides, and plans and organizes the nightly activity – a thrilling event which changes every night. Hattie organizes all the special festivities and big productions for the kids and teens, all while being prepared to deal with the unexpected whenever it should arise!
Hattie adores the little cowpokes she gets to spend every day working with. About her job, she says, "Kids are lighthearted and refreshing. There is so much more magic happening with kids than adults (sorry adults), but we have more fun and it's more rewarding to see kids grow from being nervous and skeptical to opening up and bonding with their horses and counselors. It's empowering."
Related: Learn More About Kids' Horseback Riding at C Lazy U
A Powerful Community
Hattie doesn't just work at C Lazy U, she's also proud to call the ranch home. Hattie loves living behind the main lodge, and has described her living situation as "absolutely magical," and by-far her favorite place to have lived. But all that has come with its challenges.
Hattie started working on the ranch in the middle of the Covid-19 pandemic, and then things went from bad to worse. Grand County and C Lazy U Ranch were rocked in the fall of 2020 by the destructive East Troublesome Fire. Hattie was humbled and moved by the life changing experience. In the wake of the terrible natural disaster, Hattie further realized the importance of her newfound home. She witnessed the power of the community at large and got to experience the "real Grand County" as countless volunteers and community members worked tirelessly to preserve and restore their lives and lands. Hattie herself was a crucial figure to the ranch rebounding and being successful after the fire. Her work, exuberance, and positive spirit are an inspiration to all around her.
Looking to become a member of the C Lazy U community? Contact us today to plan your escape to one of the best vacation destinations in America, or find out how you can start your dude ranch career in the Rocky Mountains today!