It was a clear, cold evening at the C Lazy U Ranch- my home for the past 30 years. As I made my usual end-of-day rounds, I heard a few of our staff members getting out of a truck, their talking and laughter rising into the evening air, echoing off the side of the hay barn, and reminding me, as I so often am, about how magical this place really is (a lot of credit for that should go to me… but who's counting). "Odd," I thought to myself, "this corral isn't ever used in the winter, and is vacant now." I changed my course to check things out further (I find humans often behave quite oddly, and usually don't give much merit to their weird behavior, but this was odd enough to intrigue me).
Hiding behind a shed near the corral they entered, I watch them snap a few pictures of the nothingness within, and then head back to the truck. I withdrew further into the shadows of the shed so as to avoid discovery, and then they were gone, heading up the ranch drive. Listening for a moment to make sure that I was alone, I slowly made my way out of from behind the shed (or safe haven, I should call it- I would never have proceeded further had I known what was in store for me!).
Crawling my way under the empty corral fence, I walked towards the spot that the staff members had stopped.It had grown significantly darker since they had been here, and I blinked a couple of times to let my eyes adjust… I now wish that I hadn't; hadn't let my eyes adjust to see the horror; followed the kids into the corral; let my curiosity get the best of me! As my eyes
adjusted and I peered into the distance, I saw it, emerging from a shed that should have been empty: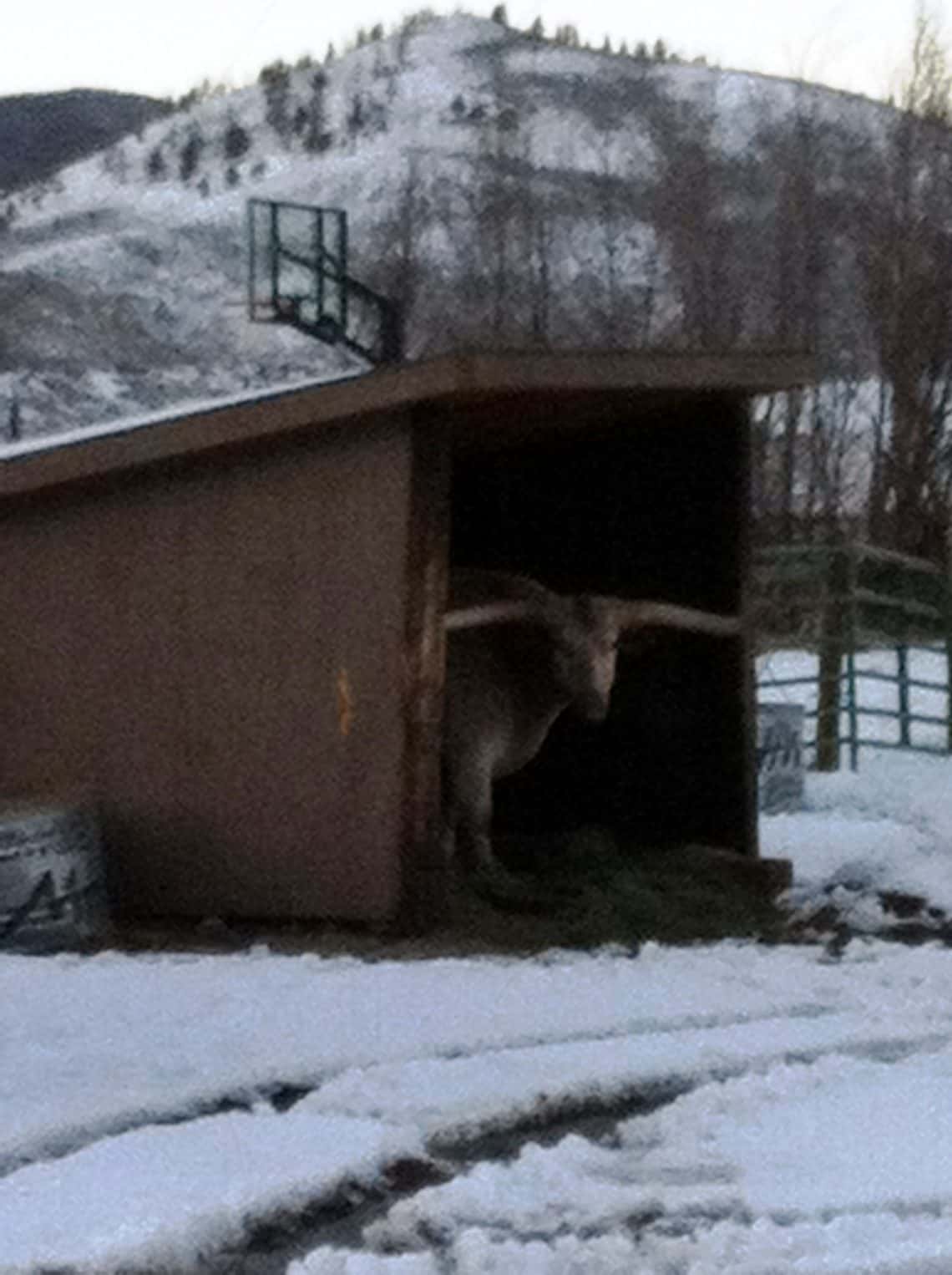 I gasped! "What is it?! This is how I will meet my end!" and a million other thoughts ran, simultaneously through my little donkey mind. "I'm to valuable to die!" I tried to choked back a loud bray, but I'm only so strong. "HeeeHAAAWWW" echoed loud, and crystal clear in the frozen silence.
And suddenly, my historic, and important life flashed before my eyes as it noticed me staring in fear at it in the twilight hour, it's large, long ,spear like  horns waiving about, threatening me to stay away. Well, needless to say, I ran out of there as fast as my little donkey legs could carry me (maybe people are right about my weight… I couldn't get out of there fast enough, and my belly sure didn't make matters any faster!)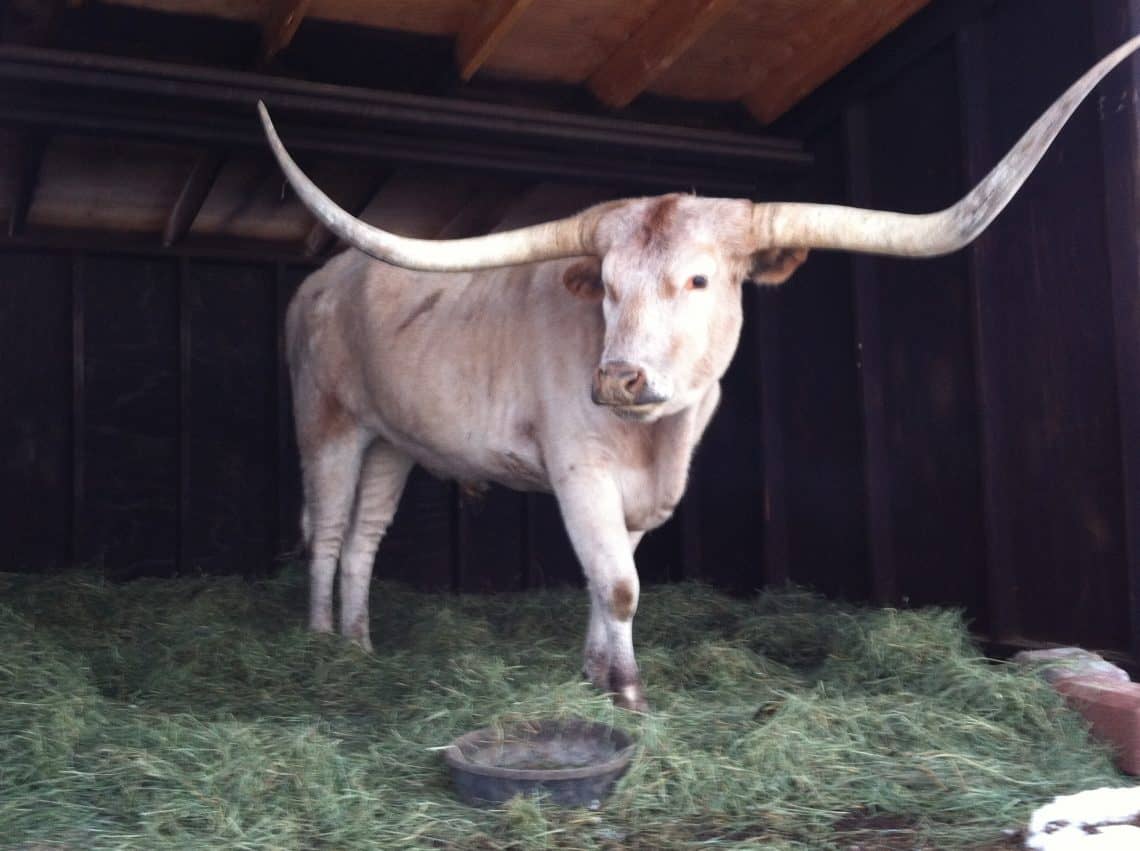 After an uneasy night of sleep I was able to recover my nerve and stroll the ranch today in search of some kind person that might give me some grain to help me recover further (who am I kidding, I could never diet), and all around the  ranch I heard them talking about the wickedness I encountered yesterday evening.
"Huckleberry is  so cute," one girl giggled.
"That THING has a name?!"
"Yea, and totally loves having his photo taken- he's a total lover, so sweet," said a wrangler.
"Cute?! Sweet?!" what was I hearing? How are people supposed to enjoy their ranch vacation with this monster around! And now there is talk of putting it with the cows this summer! And in case people have forgotten, I love having my picture taken! What do we need that beast for?
I have to go sulk now.