When people think of spring break in Colorado, they often imagine skiing down the slopes and hunkering down in a ritzy resort or cozy cabin to enjoy the springtime snowfall. For families looking for something a little different, however, there are still plenty activities other than skiing during spring break in the Colorado mountains, ranging from the exhilarating to the relaxing — especially if you choose to vacation at a dude ranch.
Enjoy a family-friendly spring break in Colorado by taking part in these top five winter activities, with none of the hustle and bustle of the busy ski resorts but all of the fun.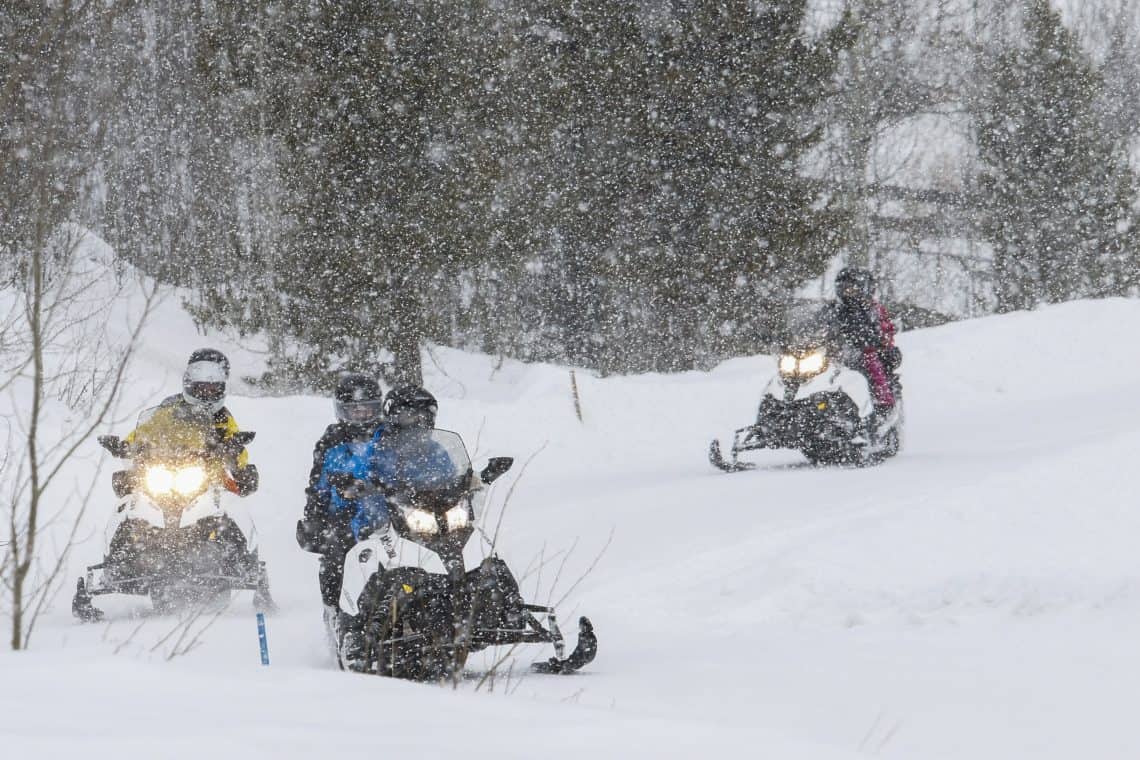 Hit the Snowy Trails on Horseback
You don't need blue skies, green trees and warm weather to enjoy the outdoors on horseback. In fact, one of the best times to go horseback riding is in the colder seasons, especially when it's a little bit snowy outside. Not only will you see some awesome wildlife such as massive elk herds and red foxes, you'll experience the transformation of our trails into a snow-covered paradise.
The horseback riding program at C Lazy U Ranch doesn't stop for the snow: the show goes on in any weather! A heated arena allows guests to practice their horsemanship skills indoors, while the trails — packed down and prepared for the horses — are open when weather permits.
Get Some Speed With Snow Tubing
If you are wary of skiing but still want that downhill thrill, snow tubing is the perfect adventurous alternative. Safe inside a cushy tube — with helmets for added safety — guests, including the kids, can get their own adrenaline rush on a private hill at the ranch. You don't have to worry about traipsing back up each and every time, either, which would be especially tiring for the young ones: snowmobiles will take you right back up to the top for hours of fun.
Explore the Ranch on Snowmobiles
Those snowmobiles aren't just there to shuttle you up and down the snowtubing hill — they're at the ranch for guests to enjoy. Join a pack of rumbling snowmobiles to explore the ranch's 8,500 acres in one of the fastest and most fun ways — speeding down the trails, kicking up snow and watching the mountains whizz by. Up to eight guests (ages 16 and older) can reserve a spot on a snowmobile for a few hours of outdoor adventure.
Strap on Some Snowshoes or Skis
Those who love to take in their surroundings on foot won't have to hang up their hiking boots during spring break at a dude ranch — just strap on some snowshoes or, yes, skis. C Lazy U Ranch is the perfect place for both newbies and pros in snowshoeing, as the ranch was voted the second-best snowshoe destination in the world by Snowshoe Magazine. And with four miles of groomed cross-country ski trails, you can still get some miles in on skis without heading off the ranch.
Guests may take advantage of guided tours for both snowshoeing and cross-country skiing, but those who want some solitude can explore on their own.
Take a Spin on the Ice
Get your adrenaline pumping and keep yourself warm on the even chilliest days by engaging in a little friendly competition on the ice. After lacing up your skates, you can create your own C Lazy U hockey teams for a daily afternoon game on the frozen, Zamboni-groomed pond. If you'd rather practice your triple Axel solo — and perhaps start training for the next Winter Olympics — you can spend as much time as you want out on the ice.
See the Feeding Frenzy on the Feed Wagon
Start your day bright and early with the wranglers to see how a ranch really operates. At 8:30 a.m. sharp, you'll hop on the feed wagon to visit our herd of horses out in the pasture. You'll not only get an up-close look, you'll learn how we feed and care for our horses. Be sure to bundle up — it can be a little nippy in the morning!
Sit Back on a Sleigh Ride
Once you and your family are tuckered out from the trails, the tubes and snowshoes, it's your turn to sit back and relax. Cozy up under a blanket with your loved ones and get pulled around the ranch by a team of powerful draft horses to truly take in the surroundings. Instead of seeing all the sights in a blur of speed, you can get up close and personal with a herd of horses or even those elusive elk.
Families looking for the perfect spring break destination can find it at a Colorado dude ranch, where there are still tons of adrenaline-filled activities that are both safe for children and give you the opportunity to enjoy each other's company.
Ready to book your spring break vacation at our award-winning dude ranch or want more information? Check out our Spring Break Vacation Packages or contact us today!