When you visit C Lazy U Ranch, you're in for a whole lot of adventure, excitement, and rough-and-tumble fun. But it's not all exhilarating outdoor exploits — you'll also get the chance to center yourself during our relaxing outdoor yoga sessions and upcoming special events.

Yoga at C Lazy U
Yoga is offered at C Lazy U Ranch each summer in two programs: the Yoga Hike, in which participants hike to an overlook to take part in an all-level Hatha/vinyasa yoga class, and Lazy You Yoga, in which beginners can stretch, relieve stress and meditate. The Yoga Hike takes place every Tuesday and Thursday from 2:00–4:00 p.m., while Lazy You Yoga — held on the Latigo Room deck or in the wine cellar in case of inclement weather — is scheduled each Thursday from 10:00-11:00 a.m.
C Lazy U also hosts special yoga retreats for those who want a more intensive yoga vacation, such as Cathy Wood's Horse & Yoga retreat. During this four-day, three-night yoga and horseback riding retreat, guests can take part in a fun and educational awareness journey through yoga and horses!
Both yoga and horseback riding sessions during Cathy Wood's Retreat were designed for yogis and riders of all levels, with Cathy guiding participants with modifications or enhancements to tailor the yoga experience based on skill level or specific needs.
Because time off the yoga mat will be spent on horseback, hiking, or taking part in any of the ranch's activities such as swimming, fishing, and biking, Cathy will also be able to offer practices that target specific muscle groups that may have been worked strenuously and are in need of some TLC.
Greet the day with morning meditation, gentle yoga, and good stretches for riders, followed by workshop topics. Time is spent on the mat, then in the arena with horses for energy exercises/experiences, and of course, afternoon trail rides! We also include a mindful equine grooming session which is a favorite among participants.
Learn more about how a dude ranch vacation can also be a wellness retreat.
After Yoga: Action or Relaxation
After an invigorating yet relaxing yoga session, participants will go on daily trail rides on horseback or take advantage of any of the ranch's activities, but those who want to continue their Zen state of mind can eschew the exercise and head to the Lazy You Spa instead. Massages, facials, and the famous Cowboy Soak can truly help calm the mind and spirit.
The days are otherwise filled with gourmet lunches and dinners, cocktails and hors d'oeuvres, games, and entertainment provided by the ranch. At this yoga retreat, you'll never get bored.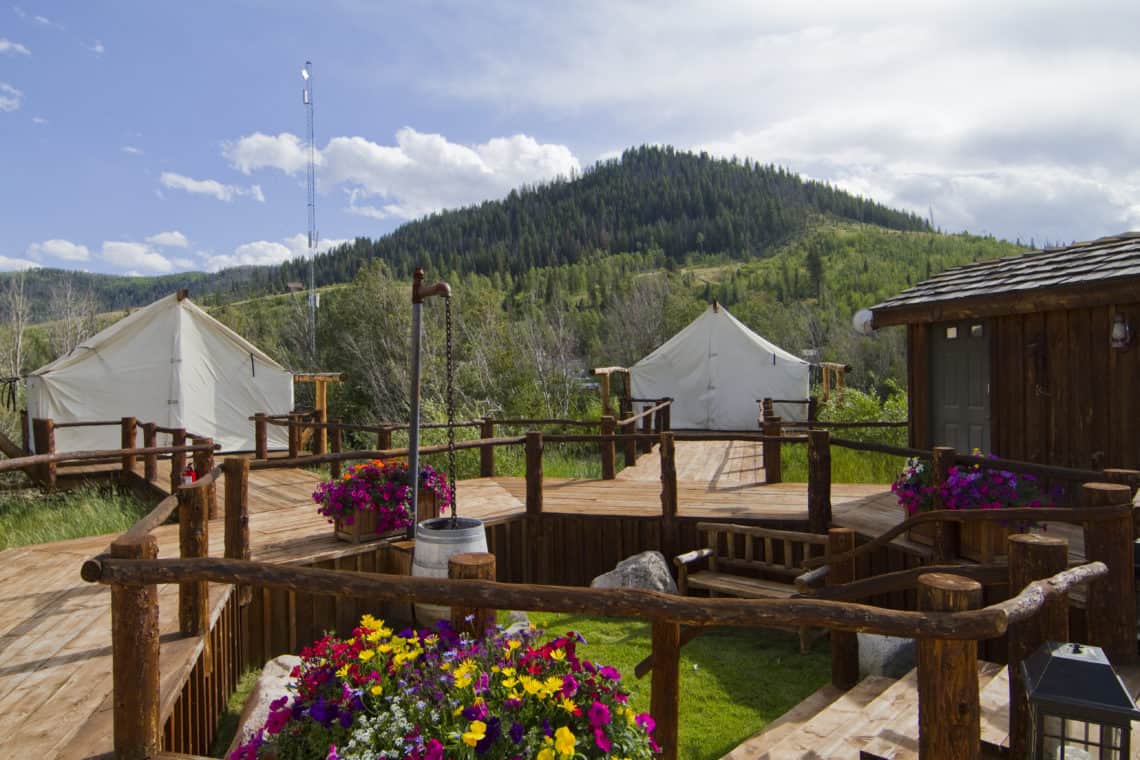 Yoga Retreat Packing List
For those who have never been to a dude ranch in Colorado, packing correctly is essential. The climate and conditions of Colorado can be very different from what you are used to, so it's important to ensure that you protect yourself against dehydration and sunburn.
In addition to C Lazy U's recommended summer packing list, guests should bring their own yoga gear:
Comfortable yoga clothing
Yoga mat
Journal
Camera
A good book
Practicing yoga at C Lazy U can be a life-changing experience, thanks to the stunning beauty of our surroundings, the care put into the accommodations and ranch services, and the yoga teachers that make it all possible.
Take a break from reality and give your body some relaxation at one of the best all-inclusive resort experiences in the world!