Hello and welcome to C Lazy U's blog! I'm Starbucks, and the ranch asked me to lend a hoof and tell you all about what life is like as a horse on a Colorado dude ranch.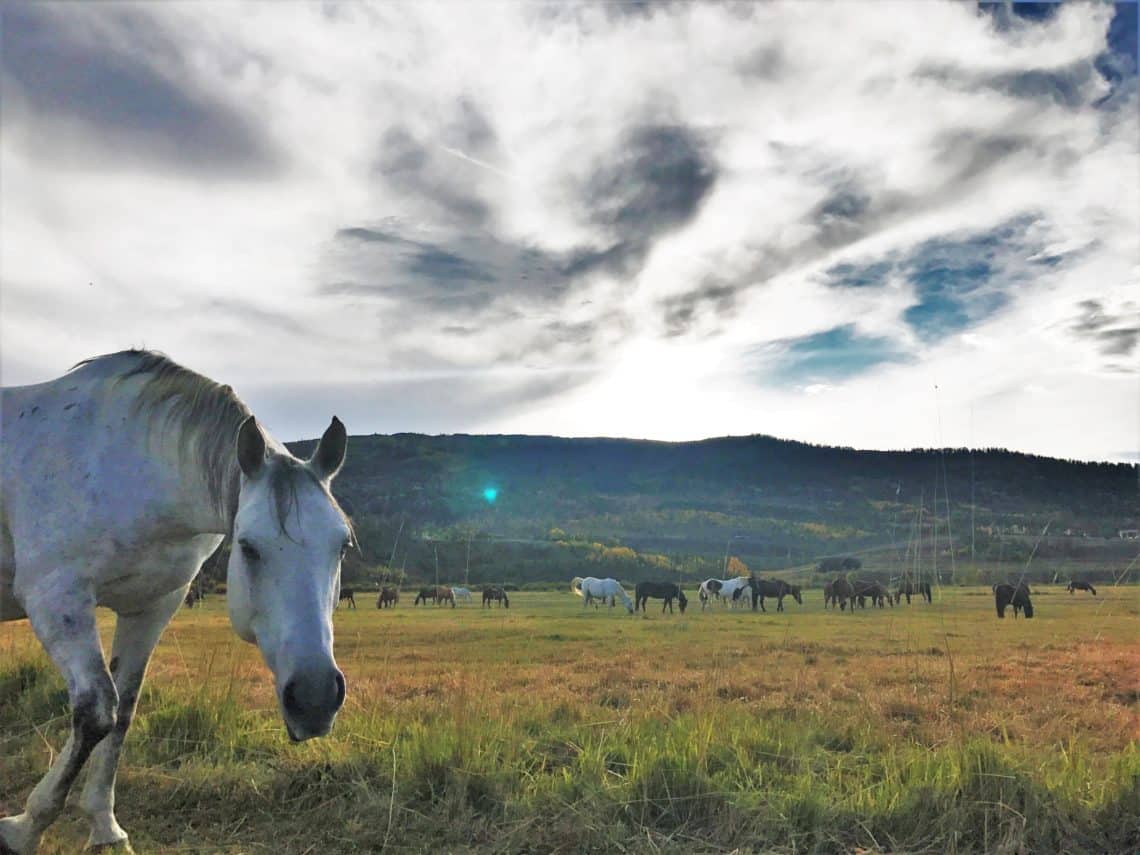 I love being the center of attention, so of course I said YES! Giddy up – there's so much to say!
Wake Up Call
I love sleeping in the pastures with my friends, Molly, Missy, June, Betsy, and Whiskey. There's always lots of yummy grasses to munch on, and nothing can beat those Colorado sunrises and sunsets. During the summer season, our wranglers come and wake us up around dawn so we can be prepared for the day's horseback rides. During the winter, we get to sleep in a bit more. I can't decide which I like more – extra sleep is nice, but I can't wait for horseback rides on the trail!
Morning Exercise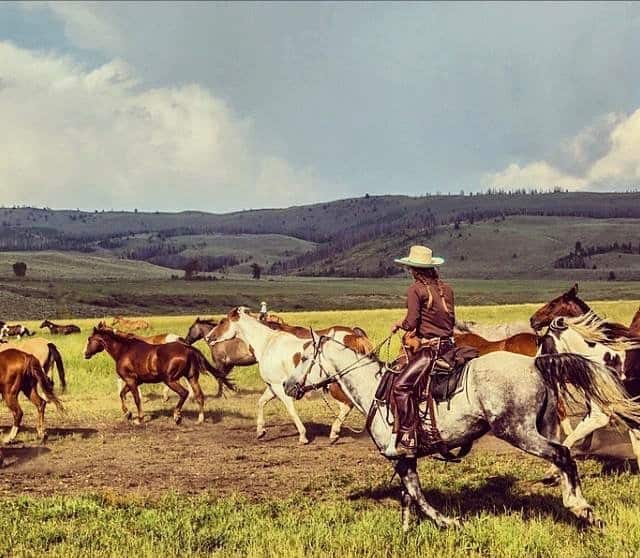 Once everyone is awake, our wranglers help us get back to the main part of the ranch. They call it "the jingle" because a long time ago, wranglers used to put cow bells on the horses so they could find them in the early morning. Even though we don't wear bells anymore, the jingle can be pretty loud, especially if we run. There's 200 of us, so when we're really running fast, I've heard that you can hear us approaching the ranch before you can even see us. Once we get inside, we get hay, water, and (on the best days), GRAIN!
Morning Horseback Rides
Depending on who is at the ranch, we get saddled up for the morning horseback rides. Our Director of Equestrian Operations, Ami, talks to all of our guests to find out how much experience they have and pair them with the perfect horse. I love taking it slow and scenic with beginner riders, and I like hopping on medium rides to change it up. No matter what trail I'm on, I'm really good at taking care of my rider. Plus, since there's 8,500 acres of land, there's always something new to explore!
Lunchtime
After a few hours of horseback riding, guests come back to the ranch for lunch – and the horses do, too. C Lazy U produces about 300 tons of hay every year, so we snack on homegrown hay bales a lot. I love hanging out with my besties and taking a quick break from the trails.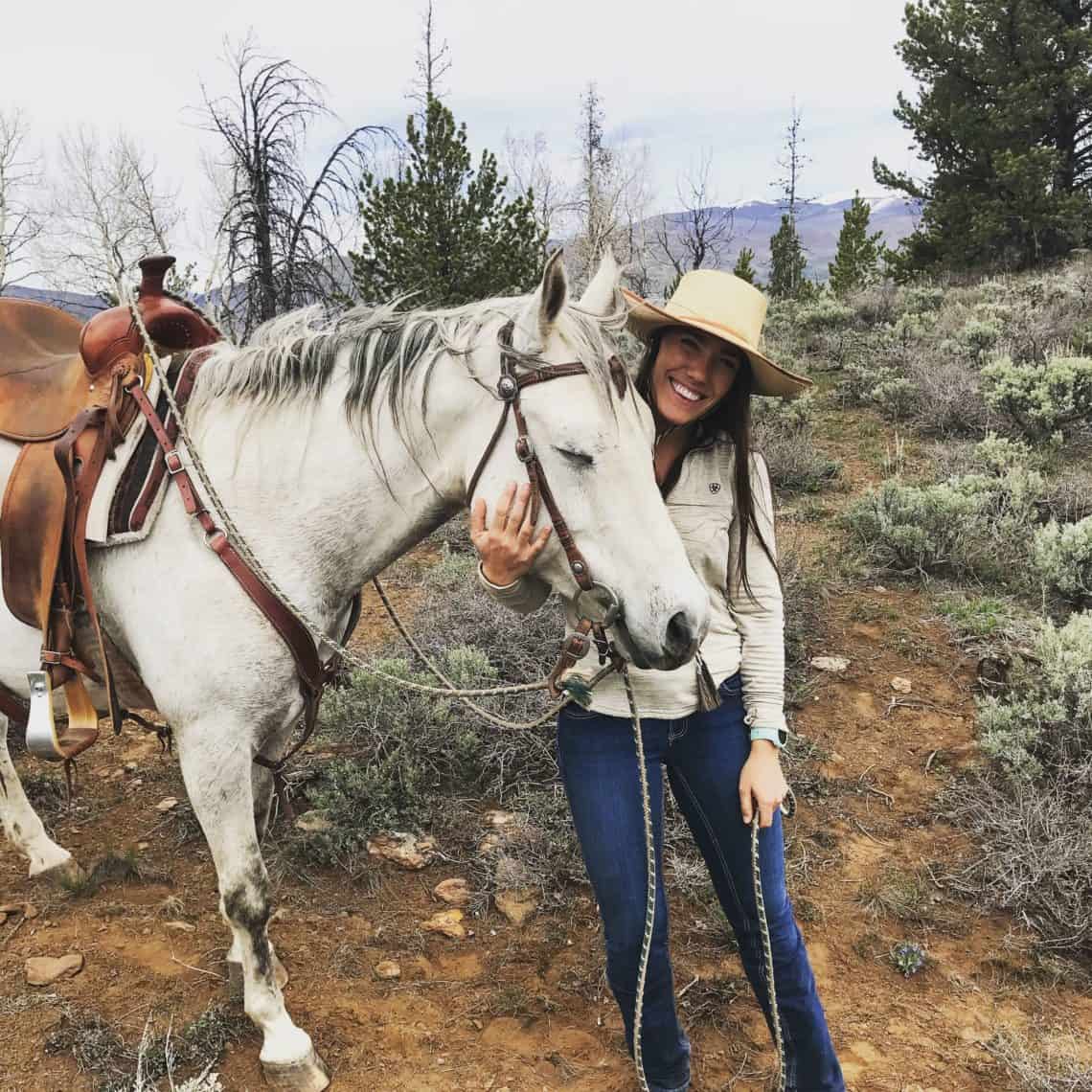 Saddle Up!
Not everyone knows that we offer way more than horseback riding at C Lazy U. Guests can attend grooming clinics, where they learn how to care for us horses. I love to be pampered, so grooming clinics are my absolute FAVORITE. Plus, it's fun to get to know guests face-to-face. It's extra great when they bring me treats and give me extra pats!
Goodnight
After we finish with the day's activities, we do the afternoon jingle with our wranglers. They rotate between pastures so we never get bored or eat too much grass in one spot. It's always exciting when we get a brand new pasture with brand new grass to eat! When it's finally time to go to bed, I always sleep well. We're completely safe from danger because our miniature donkeys, Petey and Tilley, are there to protect the herd. If they see a predator, they'll bray and kick at them until they go away. Those little guys are so tough!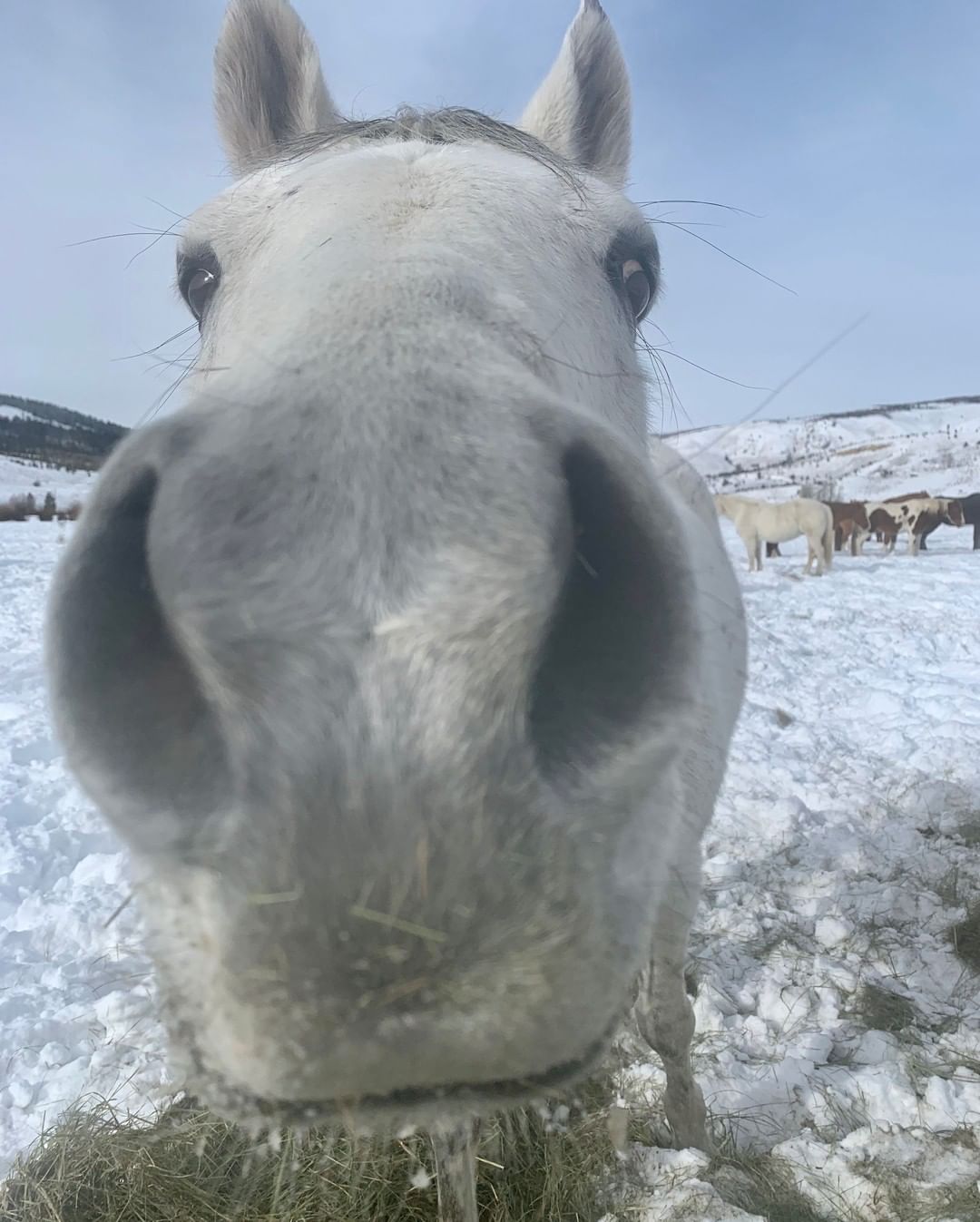 Well, there you have it – a day in the life of a C Lazy U horse. From jingles and horseback riding to meeting new guests and exploring new places, living at the dude ranch sure is sweet. Hopefully one day you'll come up to visit and meet me in person (when you do, can you bring some extra grain?).