Whether you're seeking adventure, culture, relaxation, or family bonding time, there's a perfect place for you here in Colorado. From mountain vistas and sprawling vineyards to the green meadows and wildflowers of Colorado Ranch Country, you're sure to have the vacation of your dreams any time of the year. Start planning your next trip and get to know the top travel destinations in Colorado.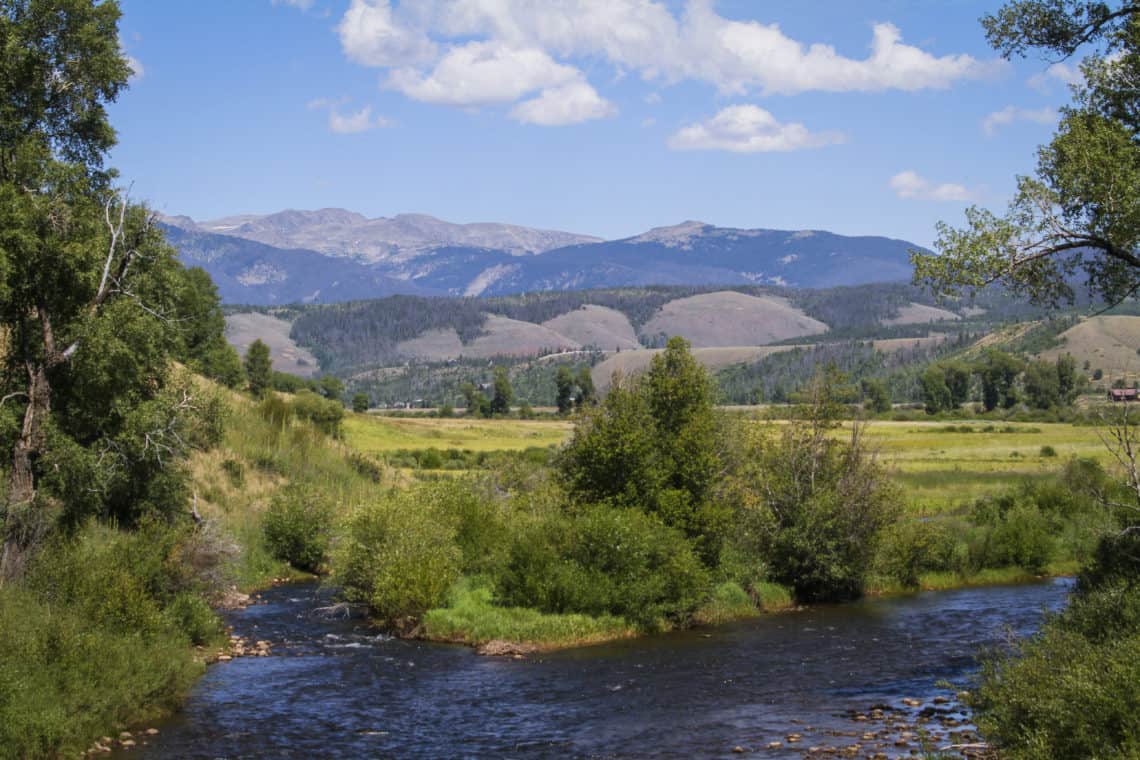 The Slopes of the Rocky Mountains
The Rockies offer something special to visitors year-round. In the summer, hike through our 41 Colorado State Parks, 12 National Parks and monuments, and 13 national forests. With thousands of miles waiting to be explored, and tons of difficulty options, you'll find no shortage of breathtaking sights, fresh air, and native wildlife.
Want a faster way to experience the beauty of Colorado? Try mountain biking! Home to the best single track trails in the world, you'll zip through high mountain passes, wooded trails, and magnificent valleys.
The fun doesn't stop when the snow begins to fall. Colorado is the No. 1 ski and snowboard destination in the country, and for good reason. With the highest altitude lift-served terrain in the U.S., skiers and snowboarders can enjoy more time riding, a longer season, and huge amounts of Colorado's famously dry, fluffy snow.
With first-class ski resorts and thousands of miles of backcountry trails, there's truly nothing like Colorado skiing. Whatever your skill level or desire for adventure, there's a downhill ski, snowboard, snow-shoeing, or cross-country route to suit your Colorado vacation.
The Ghost Towns of Southern Colorado
For the history buffs, the old mining towns of Southern Colorado are a great option for your Colorado vacation. In the mining boom of the late 1800s, hopeful prospectors flocked to Colorado's metal-laden lands in search of gold and established many mining towns.

Some of these mining towns, including Breckenridge and Idaho Springs, are still popular destinations here in the Centennial State. But the majority of them shuttered their windows and faded into history, becoming historical ghost towns.
There are plenty of Colorado ghost towns you and your family can visit. But exercise caution when you do: many of the abandoned buildings aren't safe to enter .
The Collegiate Peaks
The Collegiate Peaks wilderness area is a top Colorado vacation destination for adventure-seekers and those looking for a challenge. Located in the central part of the Rocky Mountains, near Aspen and Buena Vista, this area is home to eight of Colorado's 54 fourteeners (14ers), mountains that exceed 14,000 feet in elevation.
Waiting for you at the top of Mt. Harvard, Mt. Yale, or any of the Collegiate Peaks is a scenic view and sense of accomplishment unlike any other. If you're an experienced hiker and are accustomed to hiking at high altitude, then visiting the Collegiate Peaks should be on your bucket list for your next Colorado vacation.
The Wineries of Colorado's Western Slope
If you're looking for a more laid-back Colorado vacation, then the Westen Slope (the part of the state west of the Continental Divide) may be the right destination for you. Considered the "Next Wine Country," western Colorado is home to verdant vineyards set against a stunning backdrop of our famous red rocks, dramatic valleys, and snow-capped mountains.
Here, you'll find the beautiful scenery, award-winning wines, expert sommeliers, and comfortable tasting rooms you'd find in the Napa Valley, but with the warmth and friendliness that Colorado's known for. Get to know the over 100 wineries in Colorado.
C Lazy U Ranch: The Ultimate Colorado Vacation Experience
In the heart of Colorado's ranch country you'll find C Lazy U Ranch. Offering the beauty of the Rocky Mountains, high-class amenities, and fun-filled ranch activities like fly fishing and horseback riding, an all-inclusive getaway at C Lazy U Ranch is the best way to spend your family vacation or romantic getaway — no matter the time of year.

When you choose our premier guest ranch as your Colorado vacation destination, you get the best of everything Colorado has to offer. Our luxury spa services, all-inclusive gourmet dining, and in-house sommelier will make you feel like you're in wine country. And the scenic views you'll find hiking, biking, or horseback riding our 8,500 acres of untouched American West are as breathtaking as those of any 14er. Right on the ranch, you'll find award-winning snowshoeing trails, cross-country skiing, magical sleigh rides, and all kinds of winter activities — all without the crowds of a ski resort.
No matter if you're a family of city slickers or seasoned horseback riders, a Colorado vacation at one of the country's most celebrated, authentic dude ranches is an experience that brings the whole family together. Contact us today to schedule your dream vacation at C Lazy U Ranch.