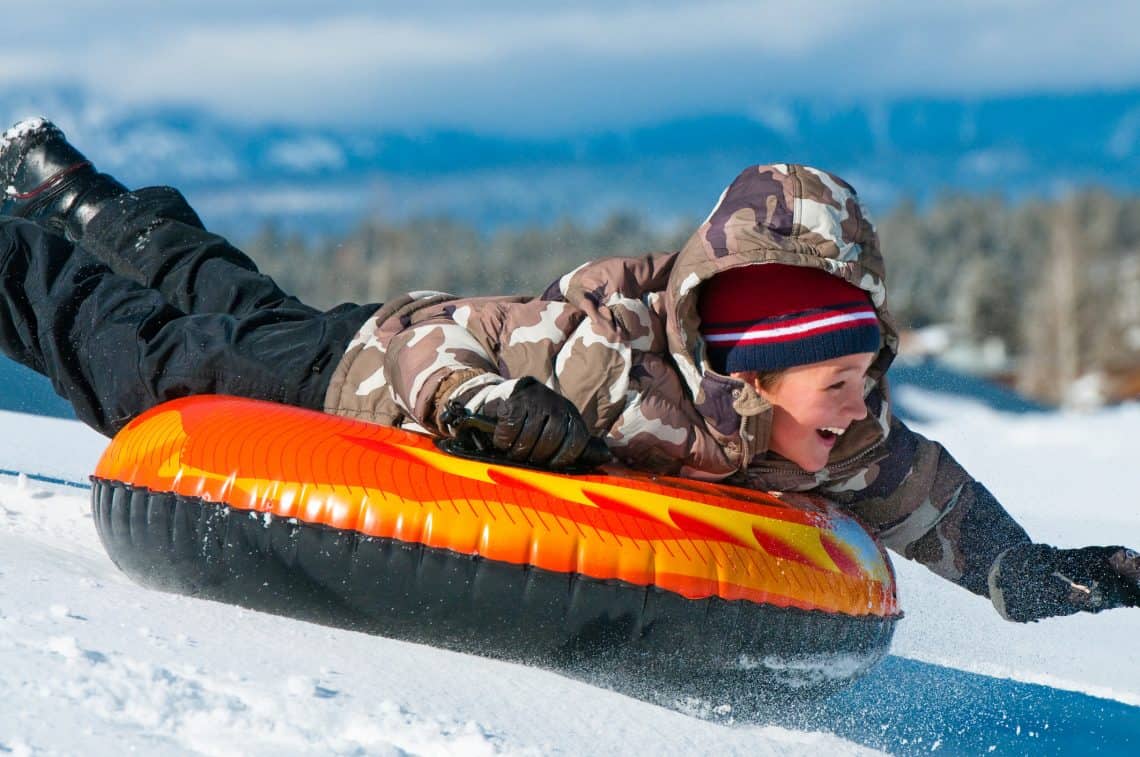 Colorado takes its winter fun very seriously, and on weeks like this when the snowstorms leave behind a powder paradise and winter wonderland for everyone to rejoice in, there are plenty of ways to enjoy Colorado's winter landscape. As a top snowshoeing and snow tubing destination in Colorado, every day at C Lazy U ranch feels as lucky as hearing the words "school's cancelled" on a snow day.
Snowshoeing Wonderland
Colorado's Rocky Mountains make a postcard-perfect landscape for exploring on snowshoes. C Lazy U Ranch was recently voted the 2nd best snowshoe destination in the world by Snowshoe Magazine. We're famous for our extensive system of private trails, carefully mapped out and reserved exclusively for snowshoeing. Whatever your level of experience may be, you'll find everything you need for a classic snowshoe adventure. Just check with the C Lazy U Concierge for maps and equipment.
For first-timers on snowshoes, you'll be up to speed in no time. As the saying goes, if you can walk you can snowshoe. It's that simple to get started! By staying on the trodden path, most of the work is done for you. Just follow along where the snow has been packed down.
If you're up for a bigger physical challenge, however, you can "break trail" in the fresh snow where nobody else has wandered. This takes a lot of power, so snowshoers will often take turns in front making first tracks. But watch out! Even with snowshoes to help you stay afloat on the snow, you may find yourself thigh-deep in powder. This is called "postholing" (like the kind of hole a fence post sinks into) and it takes some doing to get back out. Snowshoeing poles come in handy to pull others out.
Snow Tubing and Ice Skating
Yeehaw! After some time on the snowshoeing trails, finish off the snow day with a downhill thrill on the snow tubing hill. C Lazy U dude ranch has created the ultimate snow tubing destination, with a hill that swoops down for speed, then flattens out for a safe landing area. Don't worry about trudging back up on foot – we'll give you a lift on the snowmobile!
Enjoy as many runs on the snow tubing hill as you'd like, and experiment with different formations. There's the solo run, the solo run with a push, or the solo run with the spin-push. Or join forces with your group by grabbing on to each other's handles to form a duo, a line, a triangle, or a diamond. Would you dare to go down in X-formation with a mega spin-push? Go for it! The landing is always soft and safe – you'll just glide to a stop at the bottom.
If you still have some energy, you can participate in a pickup hockey game or ice skating, which are the day's last hurrah before warming up with hot chocolate by a crackling fire.