We have an ongoing debate at the ranch about what season is best at C Lazy U. The summer sympathizers are quick to point out that warm weather is best for a classic dude ranch experience and horseback riding. The winter enthusiasts beg to differ.
You see, C Lazy U is tucked away in the Rocky Mountains of Colorado, which is a "wintery" place. A dazzling white blanket of snow is what brings the area to life. Naturally, Colorado's resorts attract ski bunnies from all over the world, but that's just the beginning of the outdoor fun to be had on a dude ranch getaway in the winter.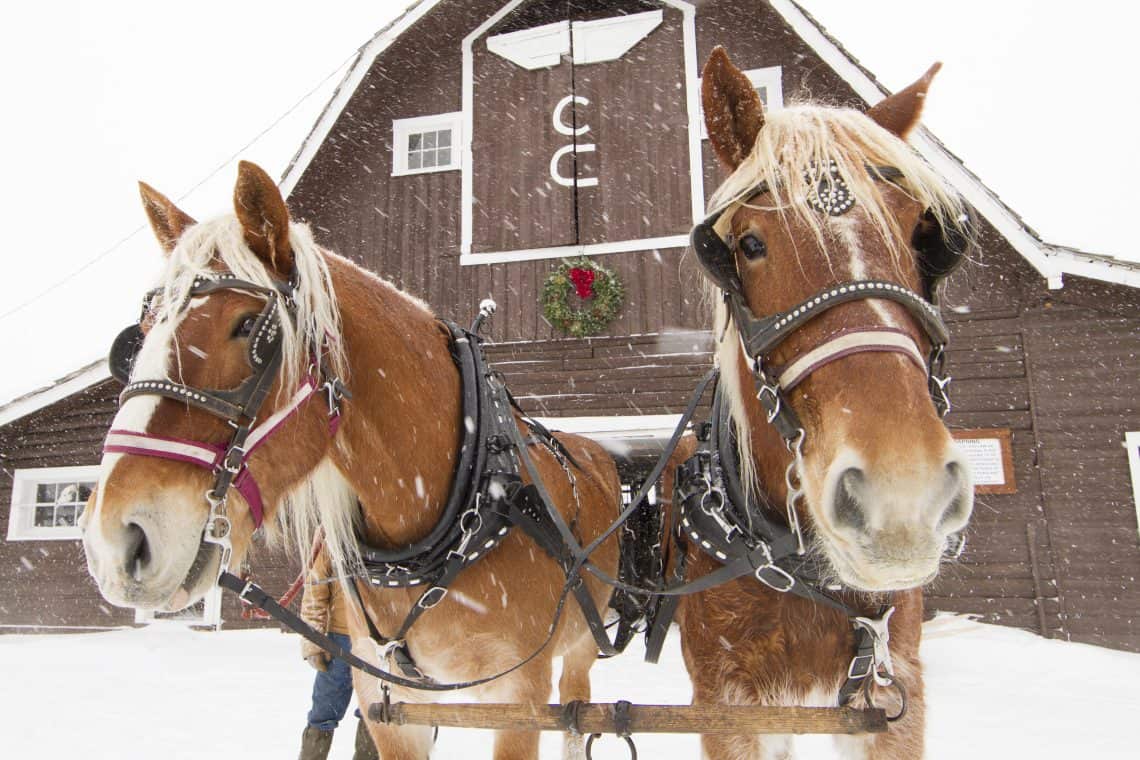 So what is there to do at a dude ranch in the winter months?
Horseback riding, indoors or outdoors
What about the horses? Truth be told, they're just as happy on the ranch in the wintertime as they are in the summer. Their glossy coats ward off the cold and they just love a good trample through fresh snow. A few snow flurries can't stop our herd of 180 horses from getting out and hitting the trails. As long as you've got a cozy outfit on, you may find that the snow adds an extra touch of enchantment to riding over the river and through the woods.
Don't like Jack Frost nipping at your nose? No problem. We have a 12,000 sq. ft. heated indoor arena to trot around atop your new friend as you forge a connection and learn each other's personalities.
Whether your horseback session is indoors or out, you'll find plenty of hot cocoa on tap and crackling fireplaces aglow for some cozy downtime afterwards.
Get your ski time in
Bluebird skies. Champagne snow. Vast, varied terrain. These are the things that bring ski lovers to Colorado from far and wide. Ski-savvy ranch visitors have a few different options for getting in on the action and plowing through fresh powder.
To beat the ski resort crowds, the best bet is to check out our packages to nearby Winter Park and Ski Granby Ranch – we'll take care of the logistics and complimentary shuttle service. You'll be in charge of having fun skiing all day, then enjoying the gourmet food and quiet peace at C Lazy U in the evening.
Good old-fashioned winter fun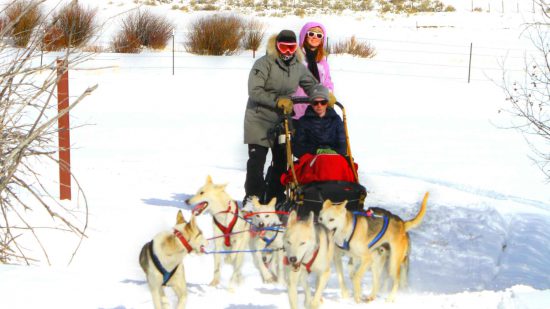 If winter skeptics aren't convinced yet, think back to what made your own childhood winters sparkle. Outdoor ice-skating on a Zamboni-smoothed lake? Serious hills roped off just for tubing? Building snowmen and spontaneous snowball fights? Check, check and check. We've got it all. The family may start to wonder if they're inside a snow globe or on the set of a holiday-themed movie.
Active adventure seekers have plenty of ways to get their heart rates up on snowshoes and Nordic skis. Try snowmobiles for the first time for a shot of adrenaline. Each evening, everyone gets together to recount the day's escapades from the day over a five-star gourmet dinner.
The great summer-versus-winter debate carries on here at the ranch as the days get shorter. But in a place like the mountains of Colorado, don't be surprised if winter-lovers are the majority. In these parts, fresh snowfall is a cause for celebration! Rather than escaping the cold, let the ranch revolutionize the way you experience the winter months.