Named by DudeRanch.com as the "premier Dude Ranch in Colorado," C Lazy U Ranch is the perfect destination for your winter vacation. Think of it as a "Winter Wonderland Escape," with an array of fun, family-friendly, winter activities at your fingertips, including: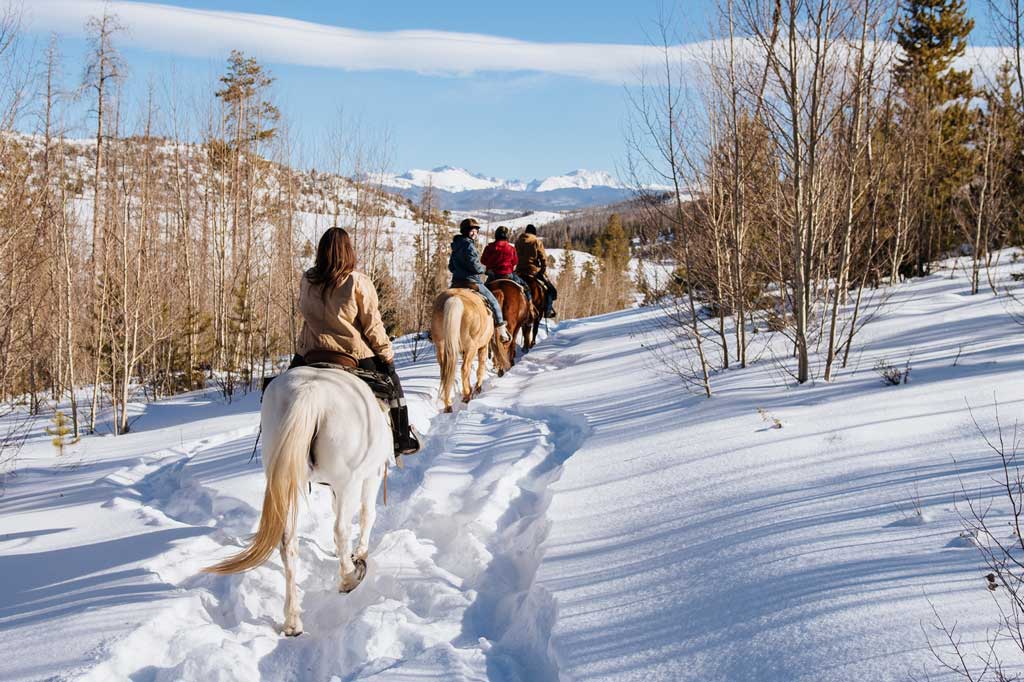 Winter Horseback Riding
Horseback riding in the winter? It's true. C Lazy U Dude Ranch offers winter horseback riding both indoors and out for our guests. Choose to ride in our heated 12,000 square-foot indoor arena or take in the stunning beauty of the outdoors with a snowy trail ride over the hills and through the unmatched Rocky Mountain landscape.
For guests who are enjoying a family vacation, C Lazy U offers guided family trail rides with trails for beginners and for more experienced riders.
Each winter horseback ride is unique and full of magical moments.
Ice Skating & Ice Hockey
Our Zamboni-groomed pond is the ideal place for ice-skating and ice hockey. Lace up your skates any time of day and glide at your own pace. Feeling a little competitive? Join a spirited pick-up broomball or daily afternoon hockey game.
You can leave your ice skates and hockey gear at home because figure skates, hockey skates, hockey sticks, and broomball equipment are all provided at the ranch.
Take a look at why so many guests love to ice skate and play ice hockey at C Lazy U Ranch.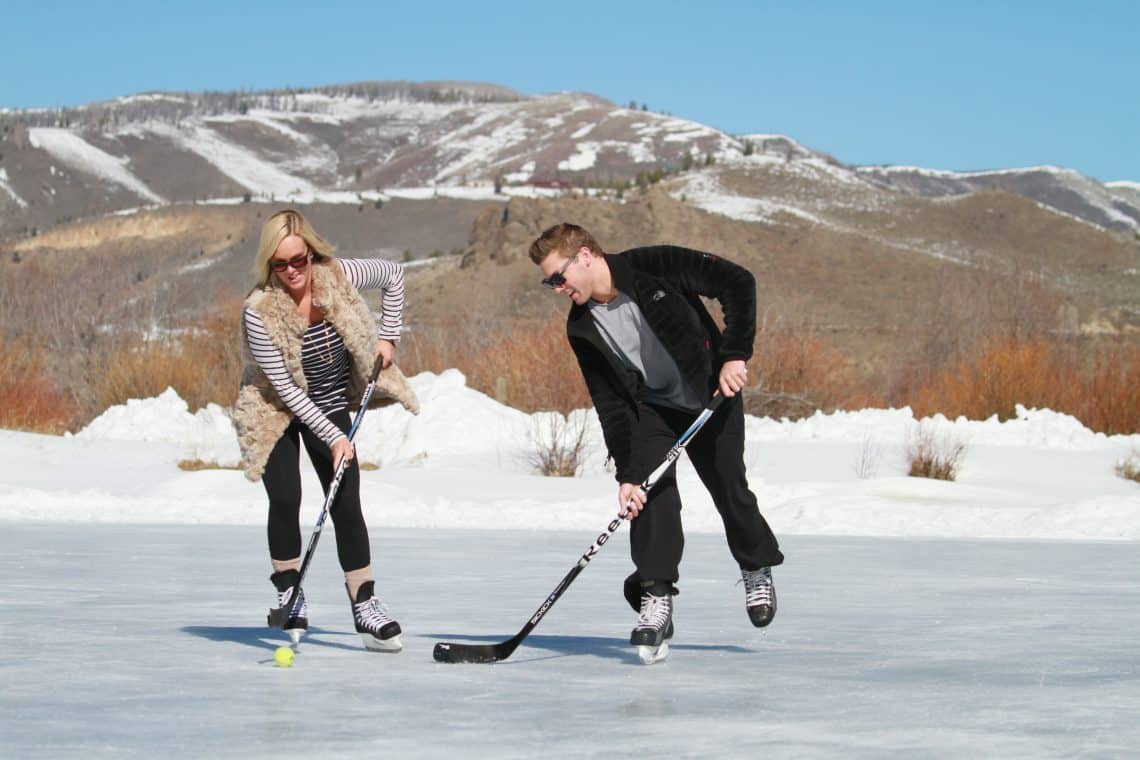 Cross-Country Skiing
We invite our guests to enjoy four miles of groomed cross-country ski trails located in the main meadow and on the upper mesa of C Lazy U Ranch. Schedule a guided tour or go out and cross-country ski on your own. Don't be surprised to see elk herds and red foxes on the trail, or if you're lucky, you may even look up and see a bald eagle soaring high above in the sky.
Learn more about some of the winter vacation ski packages we offer. All equipment is provided and coordinated through the Outfitter's Cabin.
SnowShoeing
Did you know? C Lazy U Ranch was voted the "2nd Best Snowshoe Destination in the WORLD" by Snowshoe Magazine. Yes…in the WORLD. Snowshoeing is a fun winter vacation activity and with 8,500 acres to explore in our own backyard, guests will be treated to a remarkable trail system highlighting the beauty of the ranch.
C Lazy U offers guided snowshoeing tours or our guests can explore on their own. All equipment is provided and coordinated through the Outfitter's Cabin.
Sleigh Rides
Yes, you read this correctly. Guests can head out and enjoy scenic sleigh rides through the snow. This special, family-friendly, winter excursion introduces riders to our team of Belgian Draft Horses. Learn about the "horsepower" behind these gorgeous animals, while enjoying the magnificent beauty of the surrounding meadows.
Snowmobiling
C Lazy U Ranch has designed its own snowmobile tours on ranch property. Our fleet of snowmobiles is waiting for guests like you, to use. We offer tours for up to eight people, lasting two hours which explore a wide variety of ranch terrain. To keep our guests safe, helmets are required and provided, and guests must be 16 or older with a valid driver's license to drive.
Snow Tubing
Enjoy the thrill of snow tubing with your entire family on C Lazy U's private tubing hill. Located on our property, guests can choose to ride on a one or two person tube. The snow tubing adventure begins each afternoon at 2:00 pm (we will get you to the top of the hill on a snowmobile). Safety first! Helmets are required and provided. Wheee!!!
Learn more about this popular winter vacation activity.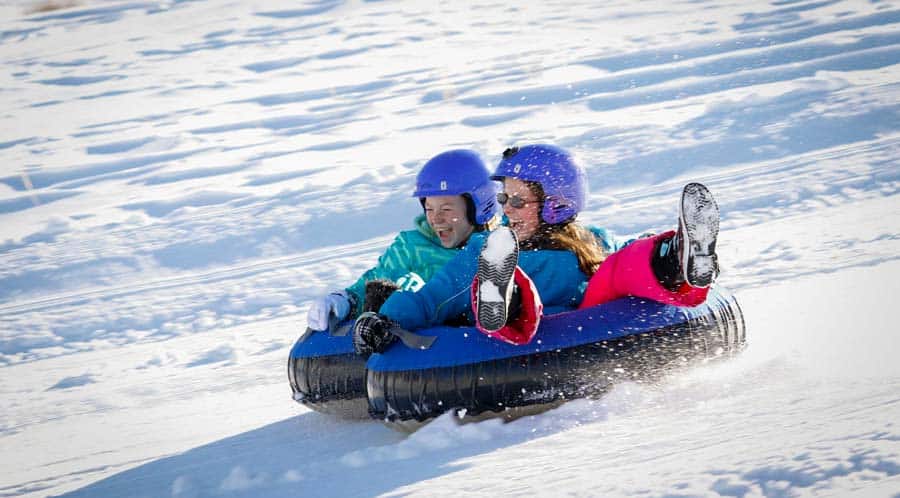 Feed Wagons
You may be asking yourself, "what is a Feed Wagon?" C Lazy U Ranch's Feed Wagon sleigh provides our guests with the unique opportunity to feed our herd of 200 horses up close. Learn about the herd dynamics when they are out to Pasture.
The Feed Wagon typically happens on a Sunday or a check-in/check-out day when the horses are off and the ranch isn't offering guest rides.
Keep your eyes open for "Petey," our miniature Donkey. He loves to hang out with his friends in the herd.
Winter Kids Club
Of course, we can't forget about the kids. We offer both a "Holiday Kids Program" and a "Winter Kids Program" for children ages 3-17. From horseback riding to tubing and arts & crafts to guided cross country skiing, our vast array of kids activities are sure to keep their hearts (and hands) warm.
Read more about our Winter Kids Club programs.
For guests who are looking to do a little winter skiing during their visit, C Lazy U provides complimentary shuttles to nearby Granby Ranch and Winter Park ski areas. Pow! Pow!
Whether planning for a family vacation or a special winter getaway for two, guests at C Lazy U Dude Ranch will leave the ranch with memories to last a lifetime.
C Lazy U Ranch is all-inclusive and most activities are included in your nightly rate.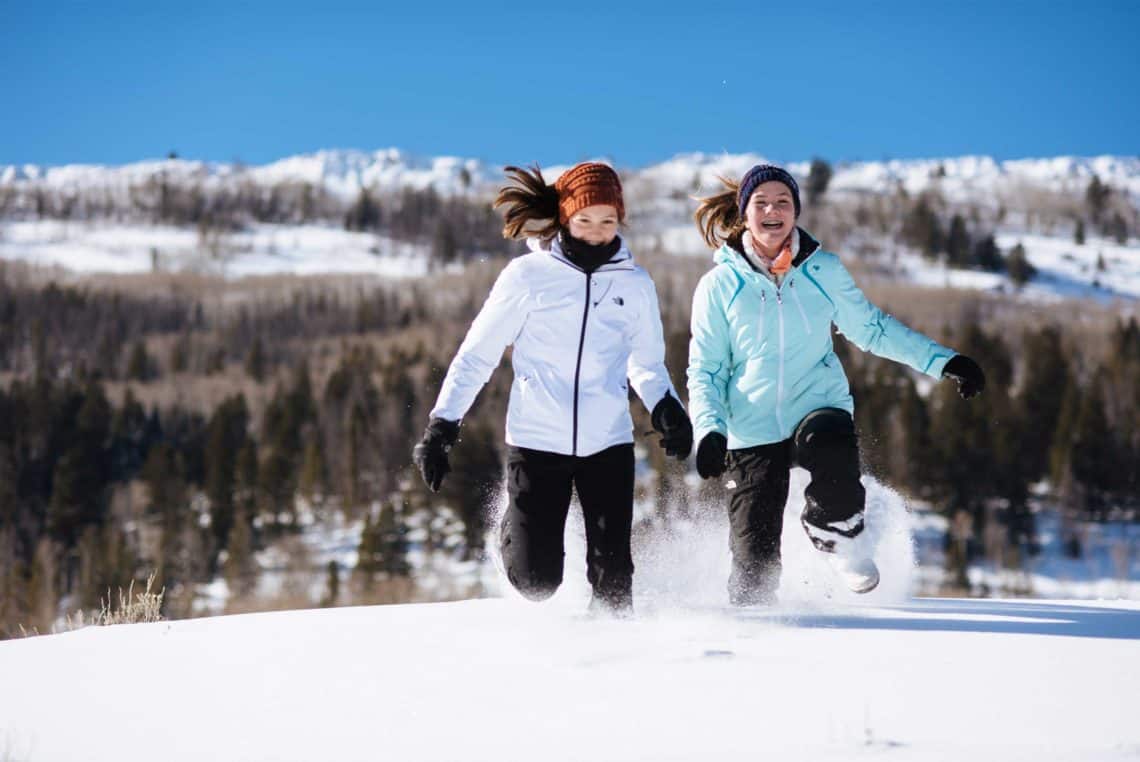 Schedule Your Winter Family Vacation
If you're ready to book your family's winter vacation, now's the time! Space is filling up fast. Visit our special events page to learn more about our long weekend specials, or call the ranch to inquire about a longer visit.
Contact us directly with any questions or to make reservations.