Are you planning your family's summer vacation and wondering how to plan something special for you, your spouse, your teen, and your youngest child? Wonder no longer – C Lazy U dude ranch offers an all-inclusive vacation experience unlike any other. Our renowned Kids & Teens program provides the perfect balance of family time and individual adventures. Kids will experience the family vacation of their life, while you can relax knowing your child is safe, happy, and having fun. Read on to learn more about the Kids & Teens Program at C Lazy U ranch!
What Ages Are Included In The Kids & Teens Program?
For over 70 years, C Lazy U has hosted children and teens programs that help our youngest visitors build confidence, independence, and lifelong memories. To help your children stay safe and create authentic friendships, we divide children into 4 different age groups and provide various, age-appropriate activities:
Cowpokes (3-5): Our youngest guests participate in arts & crafts, pool time, donkey cart rides, pool rides, movies, cookie decorating, ranger rides, and scavenger hunts. Please note: children must be fully potty trained to participate in the Cowpokes group.
Mustangs (6-12): This group participates in horseback riding, sandwich rides, pool time, grooming clinics, game room time, roping, swim rides, and shodeo.
Outlaws (11-12): Our preteen group participates in the same activities as the Mustangs, but may have some separate activity times. Outlaws can also participate in the ropes course.
Teens (13-17): Teens visiting the ranch participate in horseback riding, ropes courses, cattle clinics, whitewater rafting, go kart racing, and an overnight teen campout.
What Does A Day In the Kids & Teen Program Look Like?
Each day provides the perfect blend of family time and individual adventures, with a full family day on Friday. Monday through Thursday, you'll start the day off with mouthwatering, made-to-order breakfast with your entire family. If you choose to have your child participate in the Kids & Teens program, they'll enjoy their morning activity while you visit the spa, embark on a romantic hike, or spend some alone time with your spouse. Teens are invited to join their parents for lunch, and the rest of the children have optional time with their parents from 12:30-1:45pm.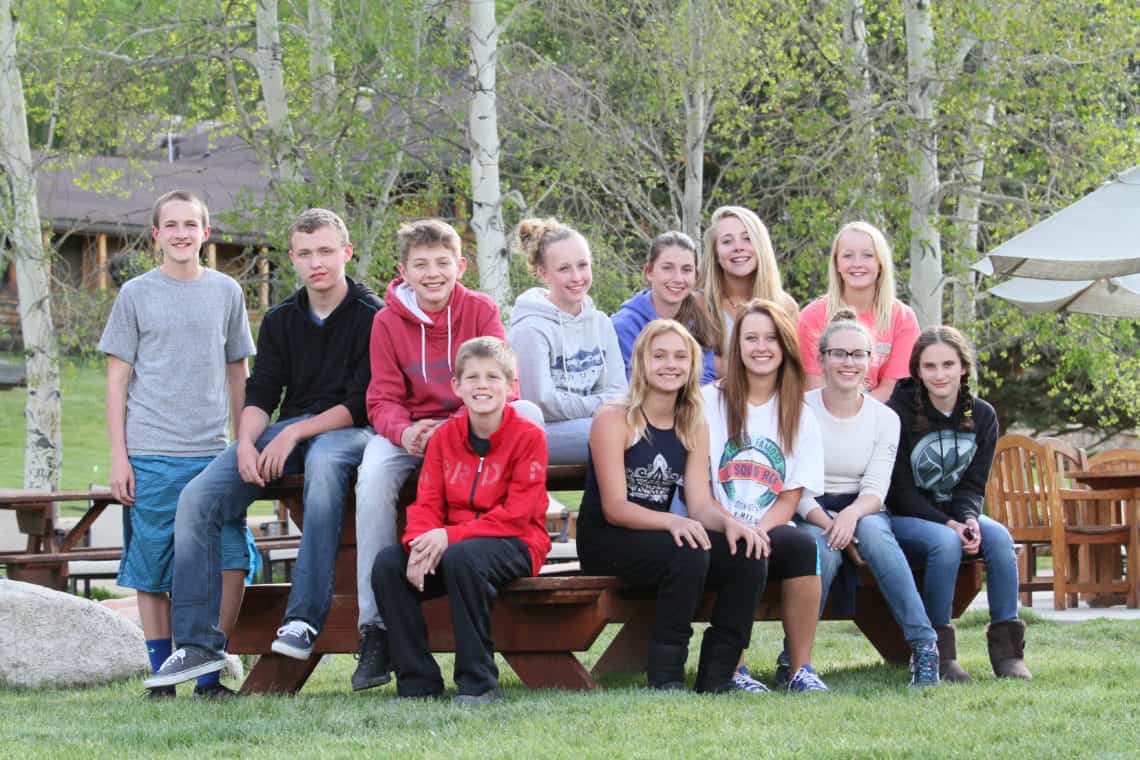 In the afternoon, your child will attend another activity and join you from 4-6pm. To help children stay happy and full, children and teens eat earlier than adults, allowing parents to enjoy an intimate, adults-only dinner later in the evening. After the whole family's eaten, come together to enjoy the evening entertainment. For a more detailed look at the daily Kids & Teen program events, check out our Summer Schedule.
Are My Children Safe?
At C Lazy U, safety is our top priority. Our children's program, founded in 1949, continues to uphold its outstanding reputation year after year. The Head Counselor and Assistant to the Head Counselor have over 10 years of combined experience working with children and teens at C Lazy U, and one senior Children's Program supervisor is on duty at all times.
To ensure your child's safety, counselors only look after groups of up to 8 children. Our counselors are thoroughly screened with a background and reference check to verify that there are no prior issues. Upon starting the position, each counselor goes through a comprehensive training program to equip them with the skills needed to safely guide your child through each day. Additional counselor requirements include:
Ability to pass a Basic Water Safety Course from the American Red Cross for pool safety
Current CPR and First Aid certification
Testing on emergency procedures on all C Lazy U trails and ranch facilities
Previous childcare experience
Previous horseback riding experience
How To Prepare For The Program
The Children & Teens program is included with your stay and includes some of our fan-favorite activities. Before your visit, review the activities your child's age group may participate in and discuss what they're most looking forward to. Then, be sure to reference our summer packing list to ensure your child is ready for every adventure. We look forward to seeing you on the ranch soon!