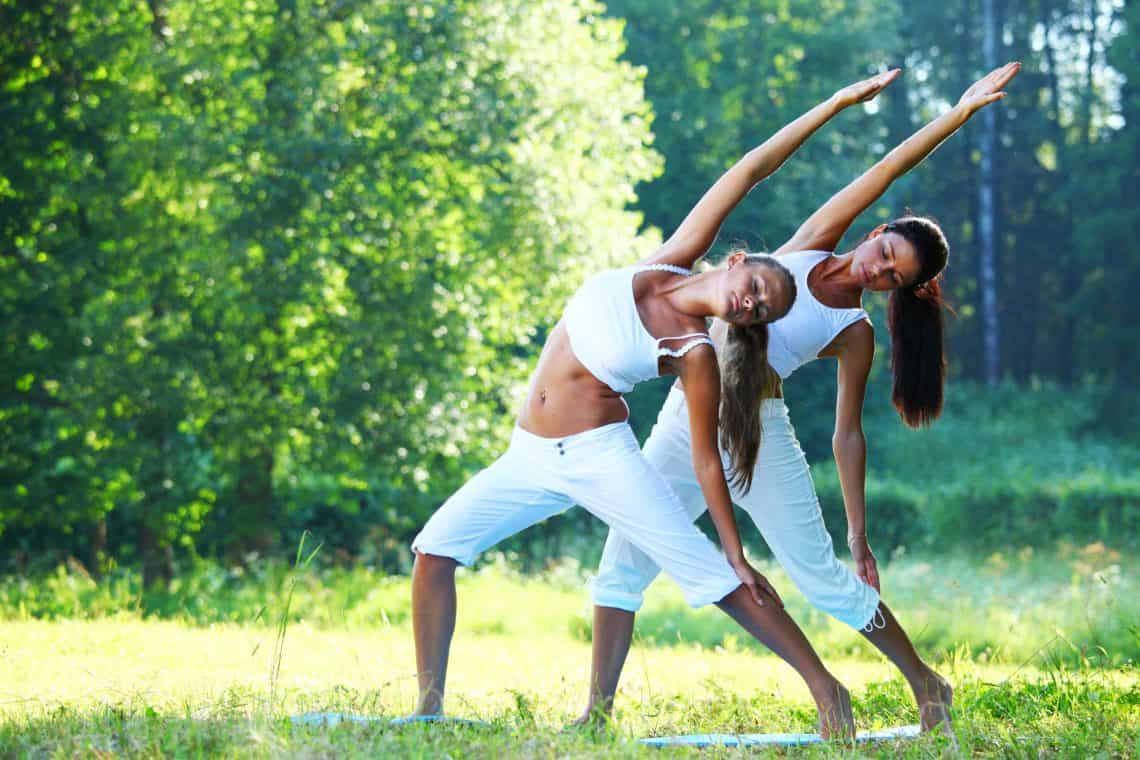 Practicing yoga and enhancing your skill as an equestrian work hand in hand. Not only does yoga promote awareness in the moment, a quality equestrians need to maintain control of their horse, but it also helps strengthen the core, which enhances stability and coordination while riding. As such, we often pair our lauded horseback riding program at C Lazy U with yoga, and we have seen first hand how the skills acquired in one can strongly benefit the other.
Yoga balances both the mind and body by stretching and strengthening different muscles through a variety of fluid movements. Horseback riding requires a certain level of mental clarity, clarity that some feel can be obtained through the relaxing, repetitive motions of yoga. When the mind of a rider is at ease, the horse, an animal especially sensitive to the mindset of their human companions, is more likely to feel relaxed and submissive; simply being attentive to the moment will assist the rider to connect with their horse. The physical benefits that accompany practicing yoga are also helpful to equestrians. In addition to increasing core strength, practicing yoga also results in enhanced balance and stability, which allows a rider to lead their horse with enhanced control.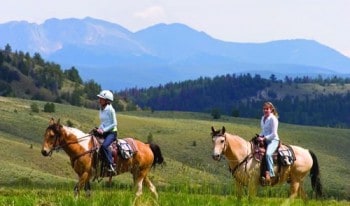 A variety of yoga poses are extra beneficial to equestrians. For example, the Warrior Pose increases range of motion in the hip joints, which in turn assists riders in achieving the correct leg position on horseback; while the Downward Dog Pose elongates the spine and helps achieve good posture, and when translated to sitting on a saddle, helps ensure a rider is correctly situated, touching the horse at the correct points to communicate. For more yoga poses especially suited to horseback riders, consider following this Pinterest board, one of our favorites at the Ranch.
At C Lazy U ranch in Colorado, we bring yoga and horseback riding together during our week-long Julie Goodnight horseback riding and yoga clinic. Julie Goodnight, an internationally respected trainer and clinician, teaches riders how to master their equestrian skills through understanding horse behavior. In tandem with the riding program, attendees also enjoy yoga from instructor Ellen Mesaros, teaching Anusara yoga. While this year's clinic just wrapped up this past weekend and today, dates for 2015 include May 14-18, September 24-28 and October 16-19. It' never too early to start planning your horseback riding and yoga retreat at the ranch!