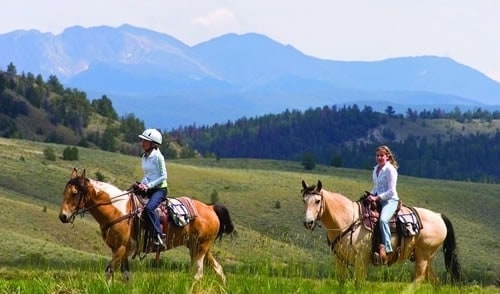 Horses are beautiful, gentle creatures and horseback riding is an ideal way to explore and see the outdoors, especially as a part of your Colorado dude ranch vacation! Here are some tips to keep in mind when first getting on the saddle to ensure a positive attitude and experience on your horseback riding adventure. Keep these in mind, and you'll be a pro and ready to show off your skills in no time!
1. Honesty
Be honest with your riding instructor about your height, weight and skill level. A horseback ride is intended to be fun, but being paired with the right horse is the foundation for any successful ride.
2. Come Prepared
Rides can range in length of time, but you always want to be prepared for anything the unpredictable Colorado environment may throw your way. We encourage our riders to wear proper pants (full-length jeans), foot appeal (thick-soled boots with a heel) and head wear (a hat that will remain secure during a ride, a cowboy hat with a chin tie is preferable).
3. Keep your Chin Up
Remaining alert while on a horse is imperative, especially when riding a new horse on new terrain. By keeping your head up you are not only maintaining good balance and control of your horse, but you are also more aware of any dangers that may be out of the field of vision of your instructor or horse.
4. Remain Calm
Horses are sensitive animals, and can often times sense when a rider is stressed, worried or irritated. Remaining calm and putting your trust in your instructor and horse is the best way to ensure your ride is enjoyable. If you do find yourself in a situation where you do not feel safe, be sure to bring it to the attention of your instructor, as horseback riding is meant to be enjoyable for all.
5. Have FUN
The most important tip we could ever provide a rider would be to have fun! Riding at the ranch is for enjoyment, and C Lazy U offers rides throughout the property's more than 8,500 acres that feature incredible views and beautiful scenery.