Spending New Year's Eve in a secluded ranch out in the mountains of Colorado doesn't seem like the typical way to celebrate this holiday — there aren't any giant, glittering globes descending from skyscrapers or throngs of clubgoers partying until the wee hours of the morning. Though those festivities are celebrated on television, they're not all they're cracked up to be — and ringing in the new year on the ranch actually has them all beat.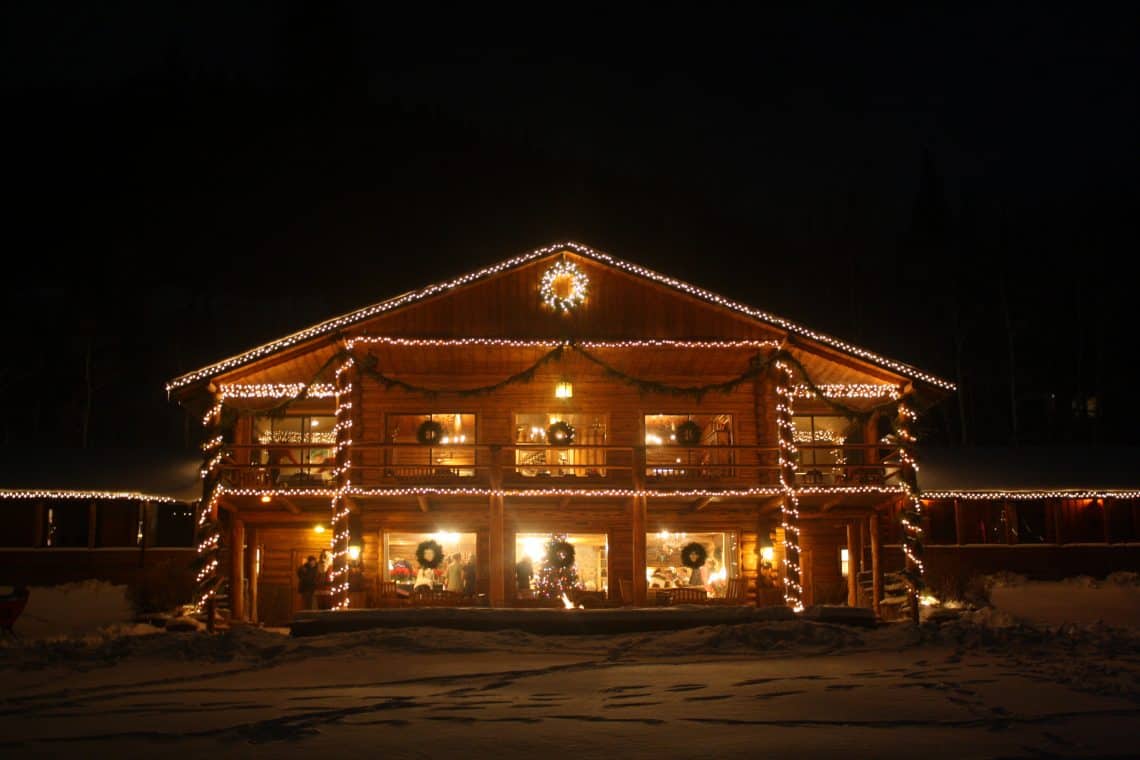 1. Beat the crowds.
When you watch the New Year's Eve parties on television — namely, famous Times Square in New York City — it's easy to feel a little envy with all the flashing lights, confetti and thousands of cheering people. But those thousands of people are actually pushing, shoving and fighting their way to get to their friends, get a good view or get a drink. Unless you choose to spend your time at a house party or at somewhat quiet bar, you may spend most of your night trying not to spill your drink or lose your friends in the crowd.
At C Lazy U Ranch, there will be a crowd, of course — but they're not strangers. You won't be shoved aside for a drink at the bar or have to keep a tight hold on your children's hands to make sure they don't get lost. The group gathered at the ranch is just the right size, providing plenty of party atmosphere while keeping it comfortable for everyone.
2. Make the most of the cold.
On New Year's Eve in places with chilly winters, you've probably dressed up to look your best — and then covered it all with a coat. Unless you plan on staying indoors the entire time (or shiver away sans coat), no one will see your outfit. Even if you do dress for the weather, you're not really enjoying the time spent outdoors; you're simply trying to get from point A to point B.
C Lazy U Ranch makes the most of the wintry weather with access to all its activities: spend the day cross-country skiing or snowtubing downhill, or take a leisurely trail ride through snow-dusted trees on horseback. You won't be wasting your time waiting around for something to happen — you can make it happen at the ranch.
3. You don't have to wait (and wait and wait…)
At a club or bar, some of the most popular places to spend New Year's Eve, the theme of the night is actually "standing in line." Clubs with open bars will be notoriously short-staffed to avoid handing out too many drinks, meaning you get to wait far too long for a drink. Before you even reach the bar, though, you'll have done tons of waiting: waiting for your ride and waiting to get inside. The night is just one long wait until you can ring in the new year with your loved one — unless they're off waiting for something, too.
A C Lazy U Ranch, we make sure that all guests are taken care of — and you never have to wait. There's no waiting line to get inside the Main Lodge, and you'll get your drink as soon as you ask for it. In fact, we'll be the ones waiting on you!
4. Get rid of the hosting duties.
House parties and small gatherings are also popular ways to spend New Year's Eve, but they come with their own problems, especially if you're hosting the party. You'll have to make sure there's food and drinks — either homemade or catered, but they are both an added expense — music and entertainment as well as somewhere for partygoers to crash if they've had just a bit too much fun. And then there's the cleanup the morning after.
At the ranch, there's none of the responsibility. You're a party guest at C Lazy U Ranch, but you're still in control of what you want to do — it's all the fun stuff, none of the bother. Have a round of drinks with fellow guests, take a spin on the dance floor and tuck in after midnight in a bed that you don't have to make up in the morning.
5. Have some unique fun.
It may be fun to reminisce and clink glasses to the same people at the same house for the tenth or 20th time, but you should always welcome a new experience. C Lazy U Ranch holds on to the best parts of these parties, but adds its own little spin for its own special New Year's Eve celebration. The kids and teens can take part in their own program during the day, while the adults go out and explore the ranch on snowshoe or skis. A horse-drawn sleigh ride in the late morning gets appetites going for lunch; afterwards, everyone can cheer each other on in an ice hockey game on the pond.
The evenings leading up to New Year's Eve are filled with special entertainment: carnival game nights, karaoke in the Patio House and more. On the big night itself, everyone gets a chance to ride a mechanical bull, listen to the tunes of a live band and dance the night away with family and new friends.
New Year's Eve doesn't have to go by the book (or film, for that matter). This year, celebrate New Year's Eve in a way that the whole family can enjoy and remember together.