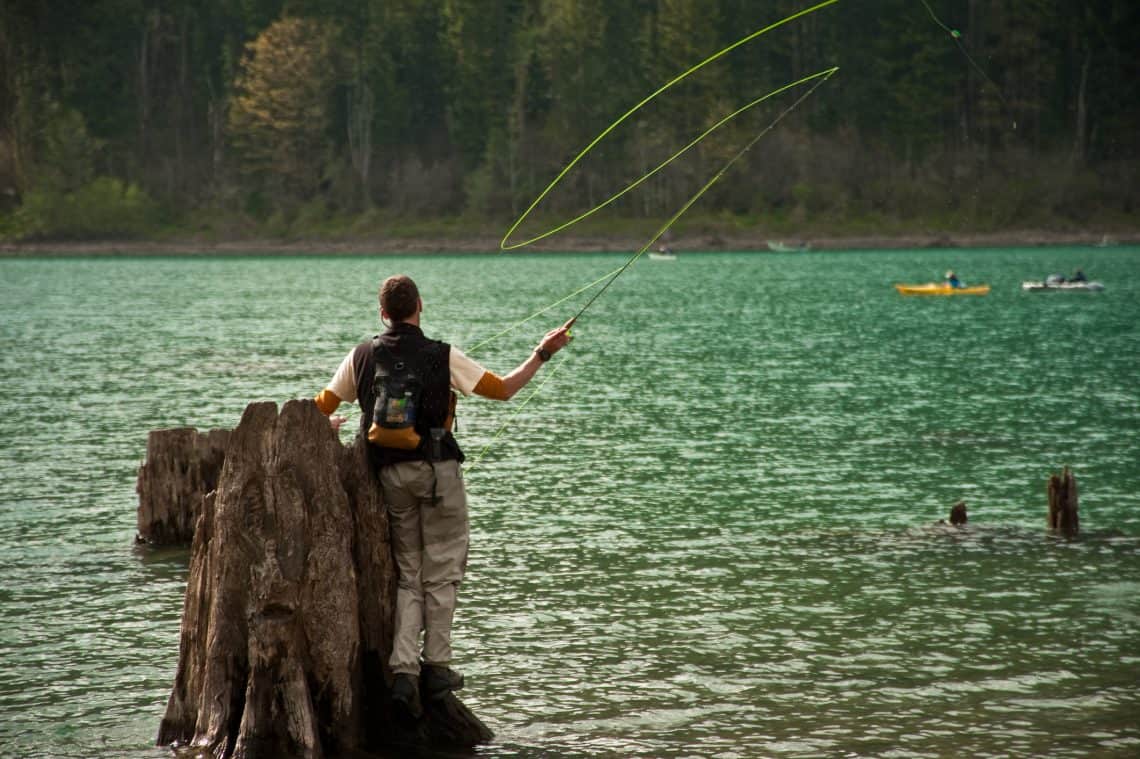 It's that time of year again! While you may find your favorite stretch of river to be riddled with high, murky unfishable water, there is bound to be a piece of still water perfect for spring and early summer fishing within walking distance! There are many site options out there, and many species to chase. And, if a river doesn't catch your fly fishing fancy, there are a multitude of lakes full of fish all over the state of Colorado. Front Range lakes offer warm water species such as bass, carp, perch, catfish, and the list goes on and on. In the high country, lakes are brimming with trout and pike. Here are a few pieces of water I frequent in the high country:
My go-to piece of water this time of year is Delaney Buttes, just outside of Walden, Colorado. The three-lake site is full of trophy-size trout. Every fly fisherman has heard of "combat fishing," or the "bring your own rock kind of day."
The Buttes are no secret, so be prepare for crowds. This time of year the fishing can be incendiary, but be prepared to work for your fish. The fish become educated quickly, and the right flies and a good presentation are key. Fish nymphs such as hares ears, pheasant tails, scuds, and prince nymphs, as well as many baetis and chironomid patterns. Don't be afraid to throw streamers, and night fishing is never a bad idea, especially for the biggest trout that lurk in the Butte's waters. Patience and timing are key to catching fish at the Buttes. Get on the water early, look for bugs and change flies often until you find what the fish are keying on. Oh, and don't forget to bring your own rock!
The Williams Fork Reservoir outside of Parshall, Colorado is another go-to of mine. Pike is the name of the game, but don't be surprised if you hook a bruiser brown or rainbow trout. Also, don't be surprised if you walk away without a bite or seeing a single fish. Many refer to this reservoir as the "Dead Sea," and for good reason: I've spent many fishless days on the banks of the Williams Fork, but the fish I've caught have made the droughts worth it. I take a 7 wt. rigged with a weightless streamer on a floating line – be sure to find shallow water with deep-water access – and start casting. Keep moving and hope a fish fancies your fly! This type of fishing isn't for everyone. If you need constant action, look elsewhere. But if you are the type of fisherman, like me, that can handle days of boredom for a truly gargantuan fish, look no further.
There is always a site to fish at in Colorado. Don't let high water hold you back! If you have never tried your hand at lake fishing, give it a go. Maybe you'll find a type of fishing you fall in love with, I know I sure have! With all the options Colorado has to offer, there is something for everyone…so get out there!