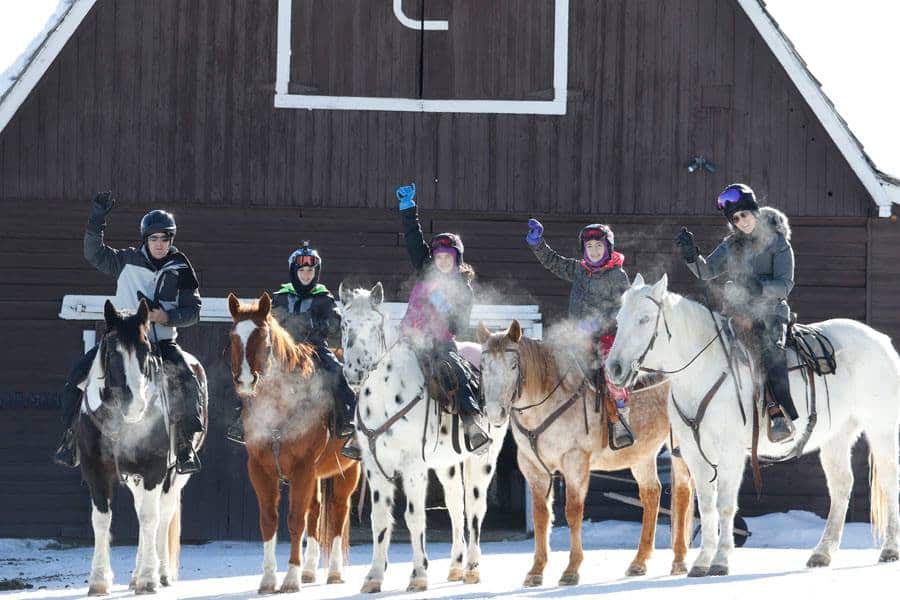 Spring break trips are a great way to get away during the humdrum weather months. But a relaxing and memorable family trip to a fun destination can quickly turn stressful because of the crowds of thousands of other spring breaking families or flocks of college students.
The key to a great time is going off the beaten path and planning a family trip that avoids the masses. That means opting for a trip that doesn't include a major theme park, a beach vacation package deal, or even a ski resort. If you can steer clear of those spring break bastions, then you'll spend a lot less time standing in lines or bumping into other people, and more time actually having fun as a family.
Here are a few ideas for a unique, fun-filled spring break family getaway.
C Lazy U Dude Ranch Vacation in Colorado
Animal loving and outdoorsy families will love the chance to vacation on a dude ranch, especially one that specializes in horseback riding vacations for the whole family. C Lazy U is a dude ranch in beautiful Colorado. Far away from amusement park and beach traffic, this is the ultimate crowd-beating spring break escape.
Here in the mountains, winter fun lasts through the spring, allowing families to have fun in the snow without the masses and hit-or-miss spring conditions of big ski resorts. Based in a cozy cabin, the whole family is spoiled with activity options – from horseback-riding to a tubing hill and more. Plus, this all-inclusive resort means parents don't have to worry about overpriced meals!
At C Lazy U, spring break is celebrated for an entire month – from March 9 through April 10, 2016 – and features discounted rates for the family.
Baseball spring training
Kick off the summer early with a sneak peek at the pro baseball season to come. For sporty families who pass their summers rooting for the home team under the bright lights of a ball park (or shuttling around to Little League games and practices), Florida and Arizona present a special spring break destination. Both states are home to Major League Baseball spring training camps.
Spring training is more relaxed and less commercialized than the official baseball season. It's a chance to see your favorite team and players in smaller and more up-close ballparks – and maybe even meet them! Don't forget your autograph books.
Find out if your favorite team is training in Arizona (Cactus League) or Florida (Grapefruit League), and plan your trip accordingly. Either way, you can't go wrong – both are warm and sunny escapes from winter weather.
Spring festivals
The arrival of spring inspires all kinds of traditional festivals throughout the country. Family-friendly festivals make a fun and memorable focal point of the trip. Here are a few that are sure to make the whole family smile.
National Cherry Blossom Festival in Washington, D.C. Especially recommended for anyone whose favorite color is pink! In 2016, the peak bloom is predicted to take place between Mar 31 and April 3, but the festivities (and blossoms) extend throughout the spring. Festival dates are March 20 to April 17, 2016.
Maple Fest Celebration in St. Albans, Vermont. As if celebrating the golden sweetness of pure maple syrup weren't reason enough, the 2016 Maple Fest Celebration is extra special because 2016 is the festival's 50th anniversary. The folksy three-day event is filled with things to do, including children's programs (think talent show!), plus great craft items and specialty food for Mom and Dad. Festival dates are April 23 to 25, 2016.
Kite Festival Louisiane. Hosted in Baton Rouge, Louisiana, this event doubles as an escape to warmer climes. Spend the weekend on a giant grassy lawn, marveling at professional kite fliers and perfecting your own kiting skills. Best of all – it's free! Festival dates are April 1 to 3, 2016.
Volunteer vacation as a family
Alternative spring breaks are promoted on university campuses across the country. But college kids aren't the only ones looking for something a little different and a little more meaningful to do during their break from classes. Families with school-age kids can volunteer together in their own communities, or make it into a trip to see other parts of the country (or world!) as well.
One volunteering idea for families is to get in touch with Habitat for Humanity, which organizes youth programs. This organization gives the kids the chance to get involved and lend a hand on a housing build site, often with destination projects around the country. Families can even join a Global Village trip to help out abroad. For nature-loving families, there are several environment-oriented organizations with volunteer programs for families, such as the Sierra Club and The Nature Corps.
With unique options like these, a spring break family vacation doesn't have to be stressful.