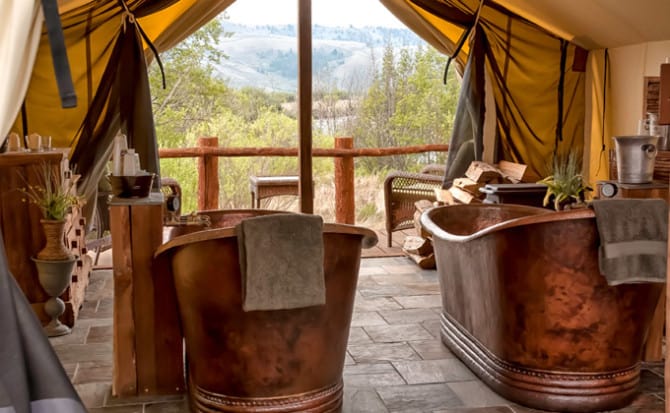 Those Lazy crazy days of summer may be coming to an end, but August is particularly good month to relax. Official 'Lazy Day' is recognized on August 10, and National Relaxation day falls on August 15. August is the month to claim your vacation days (or just play hooky) and do absolutely nothing at all.
As you can tell by our middle name, C Lazy U takes good ol' rest and relaxation very seriously. The ranch is an ideal environment for practicing the art of idleness. Here are just a few ways to celebrate Lazy Day and Relaxation Day, C Lazy U style.
Lazy U Spa Treatments
As a 5-spur dude ranch, the C Lazy U luxury guest ranch has a combination of frills and thrills that means lots of outdoor adventure without any of that pesky "roughing it". One such frill is our award-winning, stress-busting Lazy You Spa. The spa's location on the banks of a creek make for fine views as you laze about and take in the beautiful Colorado mountain views around you. Indulge in a romantic copper tub soak for two. Or, in the massage tents, watch water flow under the glass floors as your professional masseuse does all the work.
Pool and Hot Tub
In case the spa requires too much effort to reach, plop down by the pool and let the laziness begin. It couldn't be easier to get to, just off the Patio House and a stone's throw from the Main Lodge and cabins. Drinks and snacks from the pool bar are so close that they'll find their way to you. Become one with your lounge chair for a relaxing, do-nothing, afternoon. For further slothfulness, have a soak in the spring-fed hot tub. Your stress will melt away as you relax on your Colorado vacation.
Labor Day Weekend
At C Lazy U dude ranch, we celebrate the long Labor Day weekend helping you forget there's such a thing as work. This weekend is dedicated to taking time away from your toils in order to spend it having fun with the family. Enjoy our all-inclusive ranch activities, luxurious cabins, and gourmet meals as you treat you and your family to a picture-perfect Colorado weekend. Think of it as a last summer hurrah before the hustle and bustle of the school year kicks in once again.
Slow Down on a Fall Visit
After the summer frenzy is over and the kids go back to school, life at the ranch slows down. A fall visit to the ranch is the best time to take in nice long walks and horseback rides surrounded by color-turning foliage. Take in the beautiful turning leaves and changing seasons all around the ranch, as the fall season in the Rocky Mountains is simply stunning. The tone is serene and stress-free as guests wander from one scenic activity to the next – with plenty of time for leisurely gourmet dining and spa treatments. Looking for a quick weekend getaway for you and your family to relax and have fun? Check out our Fall Vacation Short Stay packages!