A dude ranch vacation at C Lazy U is chock-full of Western traditions: horseback riding, fishing, and simply enjoying the great outdoors. Guests can enjoy all of those important Colorado traditions as part of their dude ranch experience, but there are a few others that you'll only find at C Lazy U.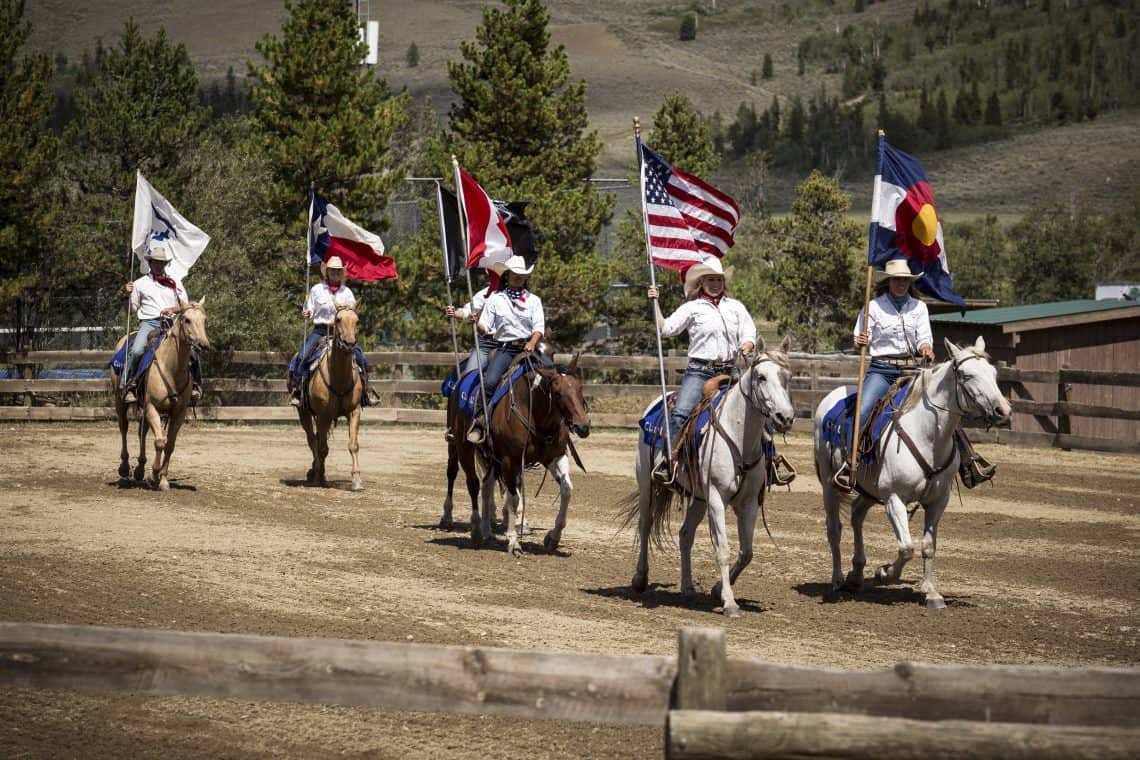 Daily Jingle: Watch Those Horses Go
Horseback riding is the crown jewel of C Lazy U Ranch, so it's no wonder that one of our most prized traditions is the daily jingle. If you've never heard of a jingle before, it doesn't include a bell or a catchy commercial tune — it's the daily "commute" the horses take from the barn to the pasture in the morning and the afternoon.
Each morning, you can watch over 200 horses run towards the hills for their day out in the sun. While other dude ranches may have a similar tradition with their horses, we have something they don't: Petey and Tilly, the ranch's mini donkeys. Any chance they get, Petey and Tilly join in on the jingle. Make sure to get a good spot — they're small, so they can be hard to spot!
Saturday Shodeo: Show Off Your Skills
At the end of the week during the summer season, guests get to show off what they've learned and perfected on horseback during their stay. The kids are the stars of the show, but C Lazy U also lets the adults take a turn around the outdoor riding ring, where they compete in pole bending, barrel racing, key hole trials or the Texas T.
Guests aren't obligated to participate in the Shodeo, so you can sit out and watch the show instead; the spectacle is just as fun as a spectator!
Woodsie Cookout: Breakfast With a View
Guests get a special breakfast treat when they visit from June throughout August, and it's not something sweet (though we provide that, too!). On Friday mornings, we serve a special cookout breakfast at Woodsie Overlook. This spot, with views of the Indian Peaks mountain range perfectly framing Willow Creek Reservoir, is one of the ranch's most majestic sites — and one the guests constantly rave about.
This breakfast features fresh doughnuts, local trout, eggs, bacon, sausage, seasonal fruit and, of course, our famous pancakes on the outdoor griddle. You don't have to worry if it's a little chilly: we light a roaring fire and serve cup after cup of Cowboy Coffee. Though it's just a breakfast, it's a cozy little tradition that guests at C Lazy U Ranch often find one of the most memorable.
Holidays at the Ranch: Special Surprises
Because C Lazy U Ranch is a beloved family destination — and we're a family ourselves — we pay a lot of attention to how we celebrate the holidays. Whether guests are visiting for Thanksgiving, Christmas or New Year's Eve, each holiday features all the traditions you love, and then some.
During Thanksgiving, guests are treated to not one but four days of entertainment and family bonding time, including a football game, corn hole tournaments, hatchet throwing competitions and more. Christmas brings the traditional gingerbread house building, tree trimming and ice skating, but also a special visit from Santa atop a horse-drawn sleigh filled with gifts for the guests. On New Year's, families get an extended holiday and plenty of activities before the big night — followed by a New Year's Eve bash with live music and mechanical bull riding.
After guests partake in these special traditions at C Lazy U Ranch, they often come back to experience them again — and perhaps even incorporate some of them into their own homes!