When guests book a trip at C Lazy U, they're in for a real adventure. But the excitement doesn't just start when they step foot on the sprawling ranch: guests can make every step of their trip to Granby, Colorado, part of a vacation of a lifetime.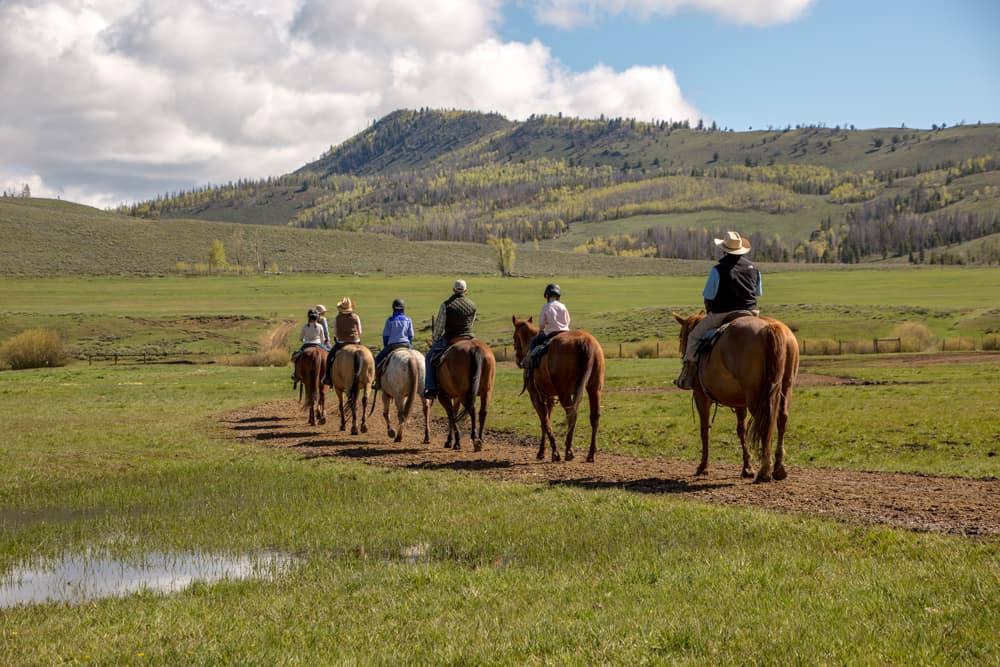 Arriving in Denver
Guests who arrive from out of state often fly into Denver International Airport before setting off on the trail to the ranch. Instead of immediately climbing in a shuttle, cab or limousine to make the 2.5-hour journey to C Lazy U, though, you can take it slow. At DIA, hop on the train instead of an Uber and ride on the A Line straight to Denver's historic Union Station.
Trains leave every 15 minutes during peak hours and every 30 minutes outside of those hours. It's a fairly short trip — only about 40 minutes — but you'll get to ride through Denver's neighborhoods on the way there, including Morris Heights, Stapleton, Park Hill, Cole and more. The train ride stops at only three stations before reaching Union Station in LoDo (to the non-locals: Lower Downtown Denver).
Union Station itself is something to behold: originally built in the late 19th century, the massive station is now home to tons of shopping and dining opportunities and even a hotel. It may be hard to drag yourself away, but make sure you have enough time explore the rest of Denver!
Stay in Style & Eat Like a King
Once you're in the heart of Denver, you can start adding a touch of urban lifestyle to your rural vacation on the ranch. Book a room at one of Denver's best hotels such as the Four Seasons for a relaxing and luxurious stay, or opt for an artsy yet chic boutique hotels in one of Denver's less crowded neighborhoods.
While you're in Denver, make sure to dine out — Denver has some of the best restaurants in the country, boasting everything from American comfort food to Argentinian eats. Acorn, located in The Source, offers you a chance to explore a 19th-century foundry building-turned-market and cultural hub while enjoying some of the best food in the West (with the exception of the fare you'll enjoy at C Lazy U, of course).
Grab a savory breakfast at Onefold in City Park West or something sweet at Habit Doughnut Dispensary in Highland before exploring the city on foot: visit Cherry Creek to do a little shopping while checking out some of its plentiful art galleries, or head to the Denver Botanic Gardens to really smell the roses.
If you're with the kids, a stop by the Denver Zoo — boasting over 4,000 animals in natural enclosures in the heart of City Park — is always worth a few hours.
Get to Granby
Once you've had your fill of Denver, eschew a private shuttle and go for a scenic train ride to Granby. Amtrak's California Zephyr will take you right from Union Station to Granby — with only one stop in between — and offer you views you just can't miss. The 2.5-hour ride takes you ride into the Rockies, past Winter Park and Fraser and straight to Granby.
Once you're in Granby, the ranch revelry can begin. Because CLU is still a little bit away from the ranch, make sure you call ahead of time — guests can enjoy complimentary shuttle rides straight to the ranch.
Once you've made it to C Lazy U Ranch, you may feel like you have already had your vacation — but the fun has really just begun.