A dude ranch vacation at C Lazy U is unlike any other: in addition to all the outdoor adventure that comes with the American West, guests enjoy luxury accommodations and endless amenities. Even with all these perks, some vacationers are still hung up on the same-old, same-old trip to the beach, wondering why they'd ever go on a dude ranch vacation — and here's why they should think about it again.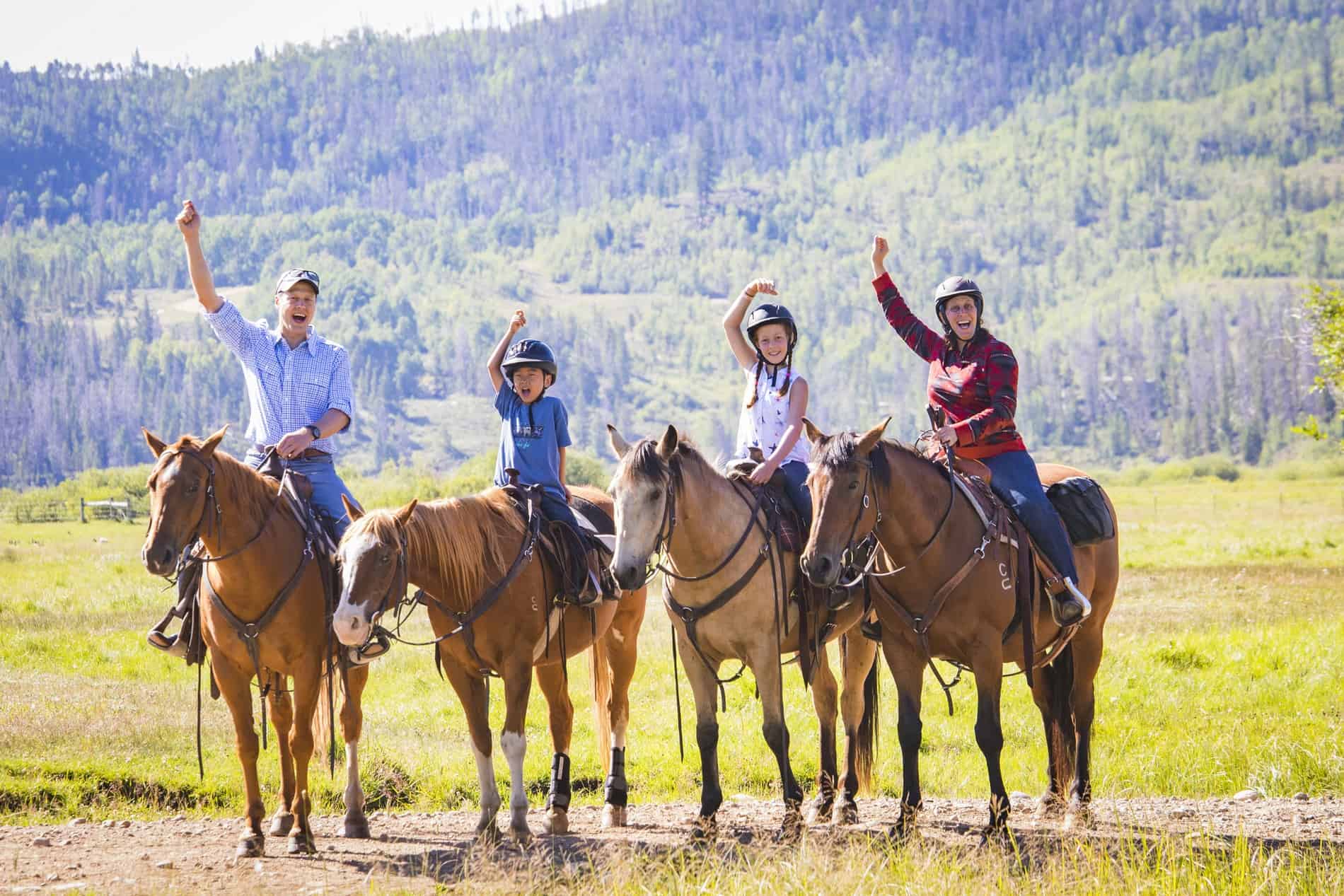 Reason #1: "I don't know how to ride a horse!"
The horseback riding program at C Lazy U is the star of the ranch. Each guest is matched with one of our 200 horses, which are all expertly cared for and trained, for the duration of their stay. Guests don't have to be expert equestrians to stay at CLU — in fact, some guests have never even been around a horse before!
First-timers are just as welcome as advanced riders, and our staff will be by your side to teach you everything you need to know. The experts won't feel held back, either: there is enough space on our 8,500 acres for everyone to get their fill of horseback riding.
Reason #2: "I just want to relax."
C Lazy U Ranch sets schedules for each week, but guests aren't obligated to take part. If you'd rather spend your days lounging by the spring-fed, heated pool or getting luxurious treatments at the award-winning Lazy You Spa, you can — it's your vacation, after all.
If you'd like some alone time, you can relax in your own comfortable, cozy cabin: put on your complimentary robe, have a cup of tea, and settle down in front of the large stone fireplace. Luxury is just as important as the horseback riding at C Lazy U, and we make every effort to ensure guests are pampered.
Reason #3: "I want to eat fancy gourmet food, not ranch grub."
At some vacation destinations, food is an afterthought; breakfasts are standard buffets and dinners are underwhelming. At C Lazy U, however, the cuisine is part of the luxury experience. Dining at the dude ranch means made-to-order breakfasts, a jam-packed lunch menu and an intimate, four-course meal in the evening. The menu changes daily, with seasonal produce, local meat, and an extensive wine, beer and alcohol list to accompany your dinner.
Reason #4:"We have young children."
Families have been coming to the ranch for years — and some kids have grown up with us! The Kids Program at C Lazy U is renowned for good reason, with tailored activities for all ages. Kids ages three to five are our little cowpokes, and they have plenty of fun with their counselors during activities such as story time, fishing and picnics, while older kids can hit the trails on horseback. Kids younger than three are welcome at the ranch, but need a nanny — for these guests, we offer special discounted rates to ensure kids (and the parents!) can have the time of their lives.
Reason #5: "I'll be bored!"
When people think "dude ranch vacation," they often think that horseback riding is the only activity available — but that couldn't be further from the truth. C Lazy U Ranch offers a plethora of indoor and outdoor ranch activities to ensure that everyone has something to do: archery, trap shooting, zip line and ropes course, tennis, yoga, mountain biking, and much more. Teenagers are the hardest to please, but because the Kids Program puts them all together, they'll feel as though they're on their own vacation.
Those who have never considered a dude ranch vacation should let go of all those preconceived notions they have — a vacation at C Lazy U Ranch combines all the luxury of a five-star resort with the rough and tumble adventure of a ranch, making it an ideal spot for a family vacation.