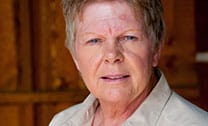 A great ranch is made up of many things: well trained horses, well-appointed cabins, fine dining and spectacular views. Here at the C Lazy U Ranch we know that we couldn't truly be "Colorado's Premier Guest Ranch" without our amazing and loyal employees. For that reason we'd like to introduce you to the members of our staff that work 365 days a year, over holidays for which the rest of the country gets time off, during weather conditions that drive the rest of the world indoors by a warm fire, and at all hours of the day and night, so you can get to know where the real magic behind the C Lazy U Ranch lies.
We'll start off our new bi-monthly blog post with our Office Manager, Jude Dwyer, who has been at the ranch for 25 years this February, making her a fixture that everyone knows and loves. Here are a few things you might not know about her!
Jude grew up "back East" on a little farm with cows. While the cows didn't belong to her family, her family was in charge of the day-to-day well-being of the herd, doing such a good job, in fact, that one year she and her sister were gifted twin calves by the cows' owner.
Jude's attentive nature wasn't limited to the cows though; her parents would describe her as a mellow, studious child that loved school. She was given an opportunity to take shorthand as an elective in high school, and took it; this is a skill that she uses today and it's fascinating to watch! In addition to her love of studying Jude was a fan of bandstand in high school, her favorite song to dance to being "I Can't Help Falling In Love With You" by Elvis.
While high school brings up different memories for everyone, some that we'd like to forget and others that helped shape who were are today, there is one memory from high school that Jude will never forget: John F. Kennedy's assassination. Jude recalls that it was just after gym class when someone ran in to deliver the news. Classes were cut short that day and everyone went home to be with family while the horror unfolded.
After high school Jude wasn't sure if she wanted to continue on to college or try the working world, but she knew that ultimately she wanted a job that allowed her to be around people… she ended up in prison. No, this isn't a plot twist to add drama to an otherwise riveting read, it's true! Jude took a job as a Clerk Stenographer in the youth correctional institution (Yardville) in New Jersey, where she worked for 18 years eventually becoming Executive Assistant to the Commission of Corrections. It was at this prison that she also met her future husband (and fellow employee), Phil. They got married and eventually moved to Colorado when Phil retired (the first time). It was about this time that the C Lazy U was advertising for an office position in the local paper; Jude filled that opening and has been with us ever since. Fun fact: Phil also worked at the C Lazy U, as its HR director for several years.
It's impossible to think of the Ranch without Jude: in addition to managing our front office and Concierge departments and coordinating events, she also serves on the Board of Directors for the Colorado Dude and Guest Ranch Association, as its Vice President; she can tell stories of the ranch that would "knock your socks off" (don't worry, she promises a scandal-clad book of the ranch upon retirement; one of her favorite phrases is, after all, "it's going in the book"… we can't wait!).
So, what does this busy and well-seasoned woman say her best single piece of advice is for her grandchildren? "Follow your dreams and don't give up"; well we're sure glad that her dreams led her to the C Lazy U Ranch. Thank you Jude for all of your years of hard work and dedication at the C Lazy U Ranch!"