Celebrating 100 Years as Colorado's Premier Guest Ranch
In 2019 we celebrated C Lazy U's 100th anniversary — it was monumental! We looked forward to sharing in the festivities with our guests, both returning and new. C Lazy U has been an integral part of Colorado dude ranch history for 100 years – a huge milestone – and we are excited to see what the next 100 have in store.


David Craig, General Manager
Centennial Celebration
Fireworks and More!
In celebration of its 100th anniversary, the ranch offered fireworks shows on Memorial Day weekend, weekly shows starting June 15 through August 17, and Labor Day weekend.
Throughout the year, C Lazy U provided robust offerings for guests to fully participate in the centennial celebration, such as Prohibition-era cocktail making classes (the ranch was founded the year the 18th Amendment was ratified), high-end spirit tasting, weekly celebratory sparkling wine toasts and more.
Additionally, July 24, 2019 was proclaimed as C Lazy U Ranch Day by the State of Colorado!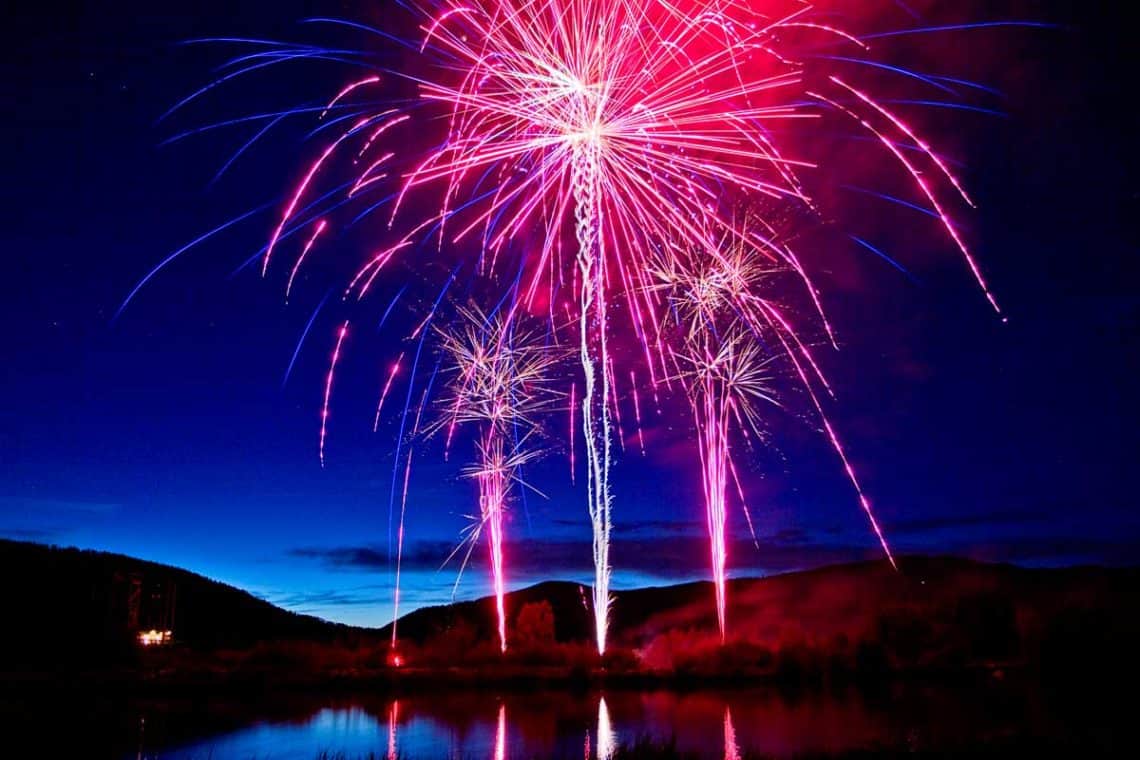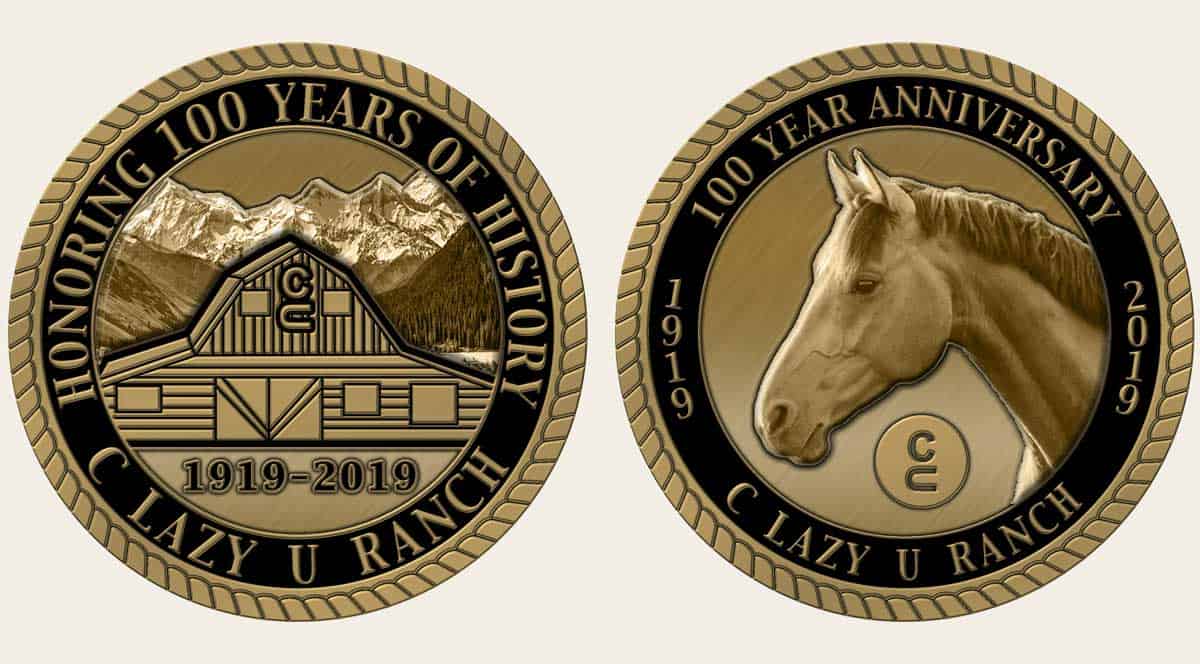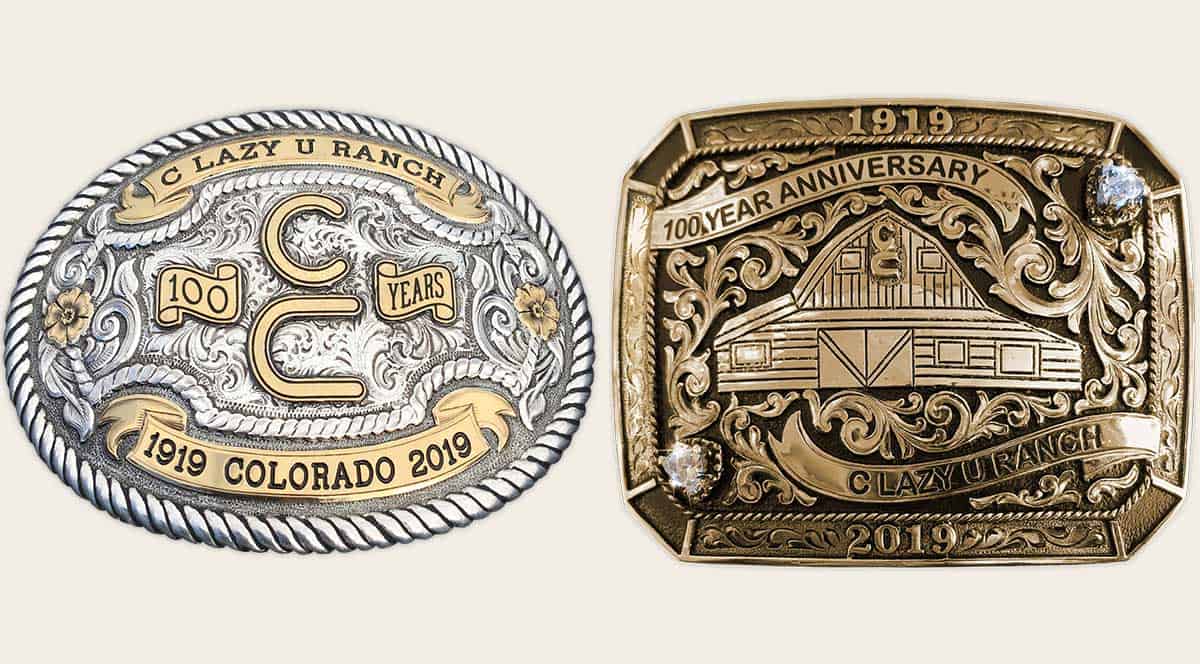 Premier Packages
This C Lazy U Land Is Your Land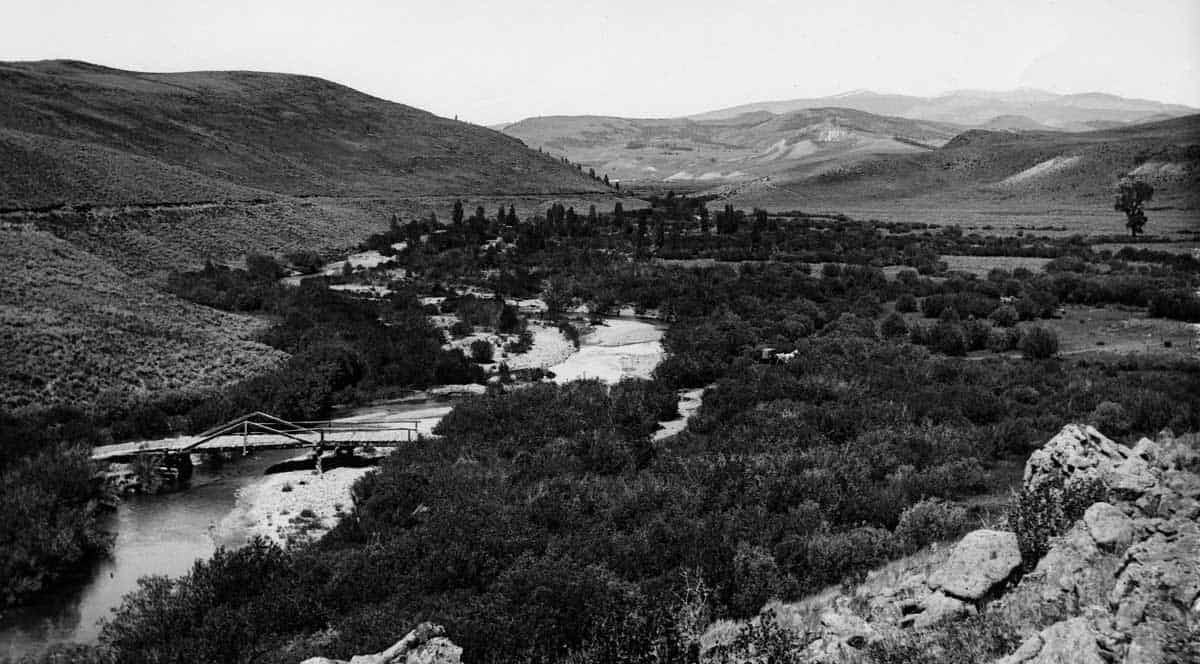 One of the best things about C Lazy U is its legacy–including the families who have been visiting year after year for generations, and will continue to do so for generations to come. In 2019, each family that visits the ranch from June to August 2019 and books a vacation will receive our
This C Lazy U Land Is Your Land
premier package!
This complimentary upgrade allows guests to bring a small piece of C Lazy U home with them, to share with their families for the next 100 years. The ranch is working closely with the National Forest Service to strategically rebuild portions of the forest on the property's expansive 8,500 acres of land that have been affected by the Bark Beetle epidemic. As part of this package, guests will be able to take home a plank of beetle wood recovered from the nearby forest; this decorative wood piece will feature each family's individual brand on one side, and C Lazy U's special centennial brand on the other side. The plank is the perfect display item on a bookshelf or desk, and will represent memories of family, friends and the ranch.
Families who book the This C Lazy U Land Is Your Land package will:
Receive a block of Beetle Bark wood in their welcome bags, and be invited to create their own family brand using a selection of letters, numbers and symbols during their stay;
Have the opportunity to brand their hats, boots and more while on-property, alongside their Beetle Bark wood;
Enjoy luxury cabin accommodations, daily horseback riding, family-friendly activities and gourmet meals.
The best part about this added package is that you do not need to sign up for it and it's included in a stay that is booked at C Lazy U Ranch.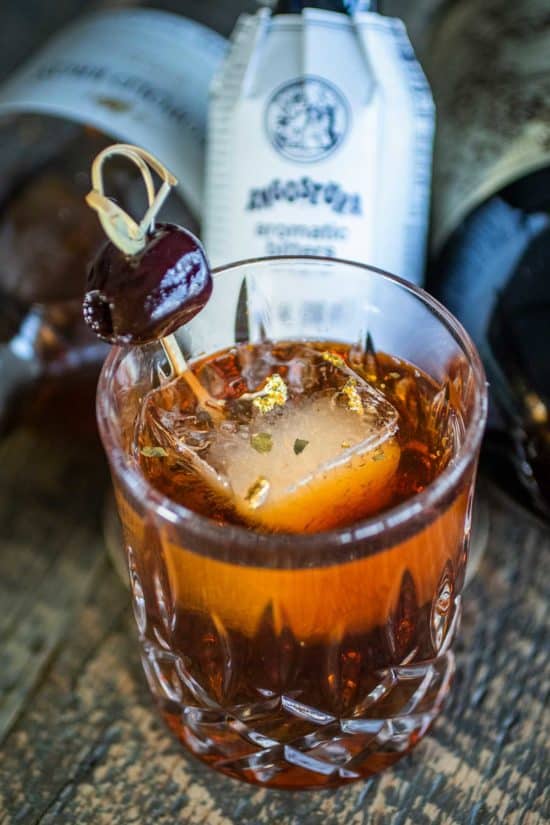 The Bougie Bootletter, made with Leopold's Select 4 Year Bourbon from the C Lazy U Barrel

A Year-Round Toast to C Lazy U
Join the festivities with this exclusive whiskey package, the Year-Round Toast Package, which includes:
A whiskey decanter and two commemorative whiskey high ball glasses, engraved with C Lazy U's special 100th anniversary logo;
Two Bougie Bootlegger cocktails, to be enjoyed at the Main Lodge Bar;
And luxury cabin accommodations, daily horseback riding, family-friendly activities and gourmet meals.
To further celebrate this milestone, you will be given exclusive access to the limited Leopold Bros. Cask Select Four-Year Straight Bourbon, once the spirit is released.
You can purchase a bottle of the C Lazy U Cask Select Four-Year Straight Bourbon ($85, including tax and shipping) by contacting Leopold Bros. Tasting Room Manager, Kristin Forsch, at (303) 945-6793. You can either have the bottle shipped directly to the ranch during your stay, or to your home if you have a Colorado address.
You are welcome to enjoy your bottle of Cask Select Four-Year Straight Bourbon in your new C Lazy U whiskey decanter, or hang onto it for another 100 years; like the ranch, it only gets better with age.
The Year-Round Toast Package can be added to your stay for $275.
Trains, Horses & The Wild West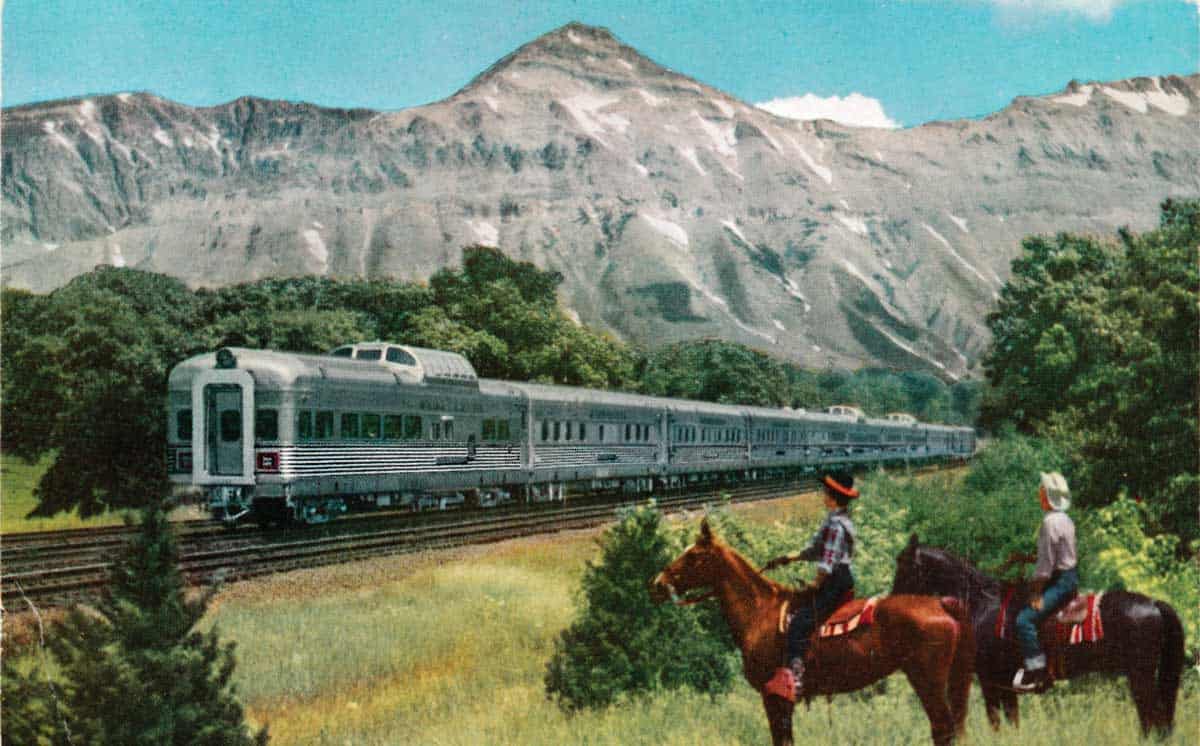 The magic of the wild west – and the intertwined history of railroads and dude ranches – comes alive with
C Lazy U's Trains, Horses & The Wild West
package. Groups who book the package will receive:
Round-trip tickets for the entire family on the Winter Park Train from Denver's Union Station, directly to C Lazy U's hometown of Granby, Colorado;
A mailed copy of "C Lazy U Ranch, 1919-2019: A History." Written by Thomas J. "Dr. Colorado" Noel and the ranch's general manager, David Craig, this book covers the extensive and fascinating history of the ranch from its original owners to present day, complete with historic photos, original recipes and more;
If the party is a family with children, they will also receive a mailed copy of C Lazy U's "Petey and Wolf" children's book, also written by Craig. The story shares the unique friendship of the ranch's Sicilian donkey, Petey, and the horse, Wolf. Net proceeds from sales of the book go to The Colorado Horse Rescue, dedicated to saving and rehoming disadvantaged horses. Families are encouraged to pack the book for their trip and read it during the scenic two-hour train ride from Denver's historic Union Station to Granby;
Transportation to C Lazy U from the Granby train station;
Two Bougie Bootleggers, C Lazy U's $100 anniversary cocktail featuring the ranch's exclusive supply of Leopold Bros. four-year Straight Bourbon, house-smoked and brandied cherries, saffron bitters, Carpano Antica Formula Sweet Vermouth and a gold leaf cube, served in a keepsake engraved rocks glass;
And a stay at the ranch during its hallmark 100th anniversary year in luxury cabin accommodations, complete with daily horseback riding, family-friendly activities and gourmet meals.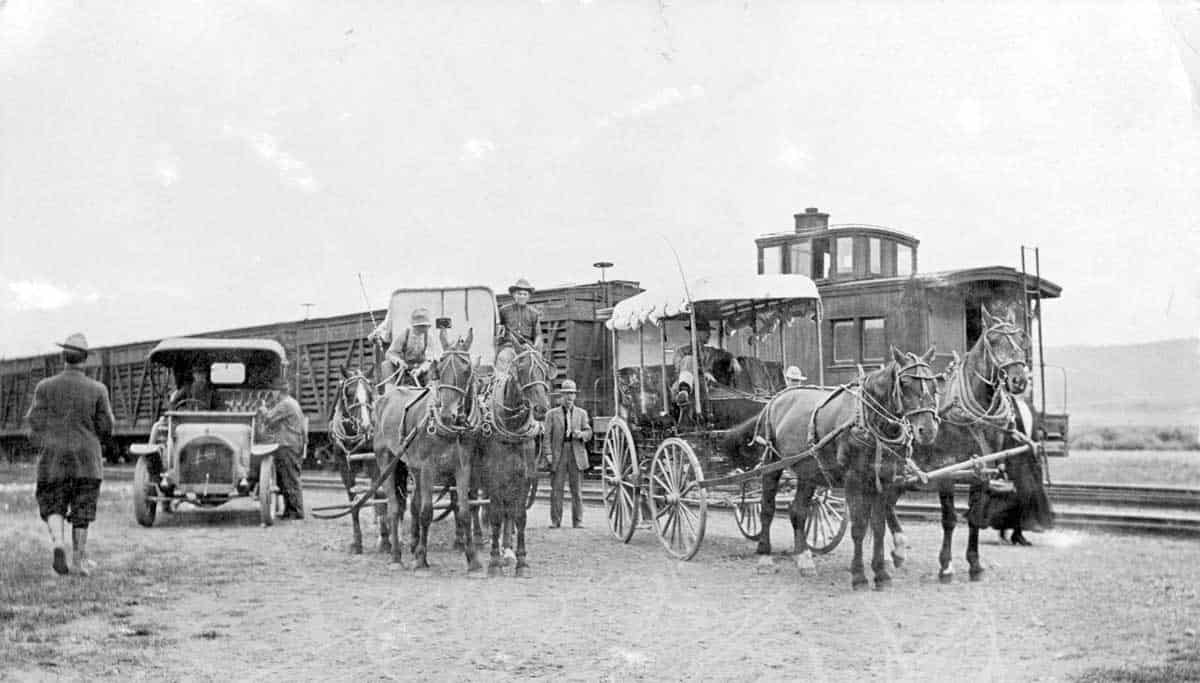 Pricing
Guests booking this package will need to arrive into Denver one day before checking into C Lazy U Ranch and depart Denver one day after checking out of C Lazy U Ranch.
The Train can be incorporated as transportation round-trip or only one-way and the ranch can schedule door-to-door car service if the train is not booked round-trip for the alternative leg.
Due to the unique booking aspects of this package the pricing varies because of family size, hotel accommodation and individual booking itineraries.
The package for two people starts at $275 one-way or $375 round-trip. Kids are an additional $65.00 each way.
Leopold Bros. and C Lazy U
In honor of our milestone anniversary, C Lazy U has partnered with Colorado's award-winning, family-owned and operated distillery, Leopold Bros.
The C Lazy U Ranch culinary team has selected an exclusive cask of Leopold Bros. Select Four-Year Straight Bourbon—which was made in an effort to honor pre-Prohibition methods and ingredients—as the ranch's Centennial Whiskey. By working with local Colorado farms to grow heritage grains, such as Abruzzi Rye, and malting two-row barley onsite, Leopold Bros. is restoring expressions of a bygone era dedicated to the highest quality, much like C Lazy U's dedication to keeping the spirit of the American West alive and thriving.
On March 23, 2019 the C Lazy U – Leopold Brothers Cask Select Four-Year Straight Bourbon will be sampled!
Attendees at this special Centennial Celebration event will be the first to taste this rare bourbon, months before it is available to everyone else.
Learn More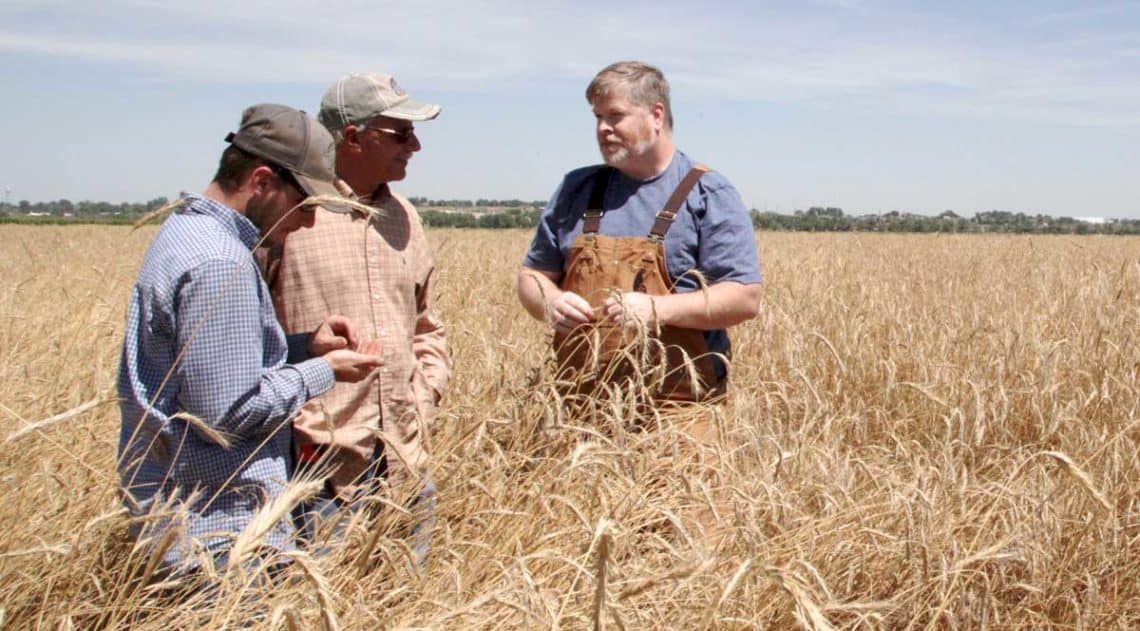 Leopold Bros. Nominated for a James Beard Foundation Award!
Todd and Scott Leopold, with Leopold Bros., were nominated in the "Outstanding Wine, Spirits, or Beer Producer" category.
Judges will vote on nominees and narrow it down to a list of five finalists in each category which the James Beard Foundation will announce on March 27, with the James Beard Awards Gala to take place on May 6 in Chicago. The James Beard Foundation Awards are annual awards presented by the James Beard Foundation to recognize culinary professionals in the U.S., sometimes called the "Oscars" of the food world. The awards recognize chefs, restaurants, authors and journalists each year.
---
Specialty Cocktails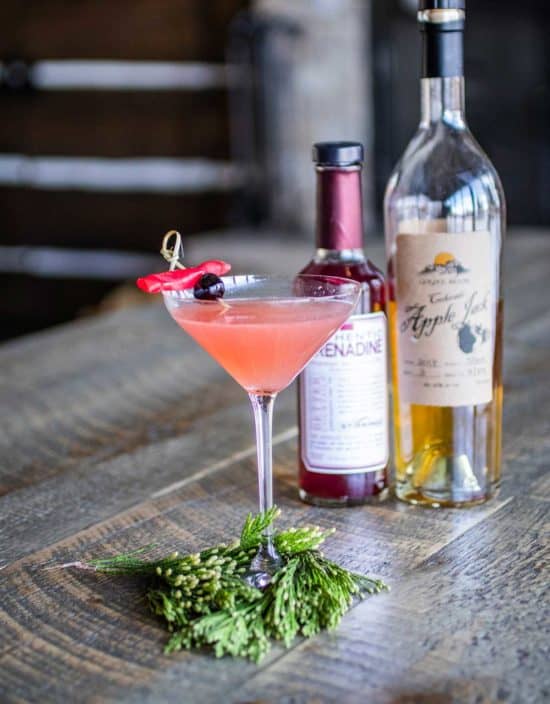 2019 Jack Rose
Applejack, Lime juice, Grenadine, Peychaud Bitters
There are 3 stories as to how the Jack Rose got its name.
It's made with Applejack and it's rose colored
It's a double entendre on the name Jacqueminot Rose of which Jack Rose is a corruption and with which the drink is color coordinated. According to the theory of journalist Albert Stevens Crockett, in his 1931 History with Recipes of the old pre-prohibition Waldorf Astoria bar. A thornless rose much like the drink, smooth but not sharp.
Named after a gangster hitman of notoriety in the early twentieth century.
1919 Boilermaker
Ayinger Celebrator Doppleback, Idlewild Single Malt Whiskey
It's pretty clear that the drink was originally consumed by blue collar workers at the end of a long shift – which is why it has now become the shift drink of choice among bartenders. It's believed the drink takes its name from the workers who built and maintained steam locomotives in the 1800's. These workers were known to head to the bar at the end of the shift, and a shot of whiskey with a beer became a staple for quickly easing the pain that came from a hard day of back-breaking labor. As it was the drink consumed by boilermakers, it took on the name as well.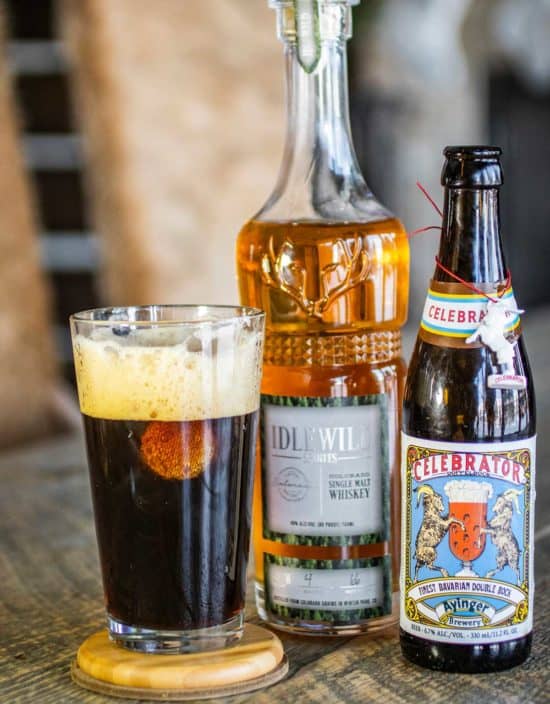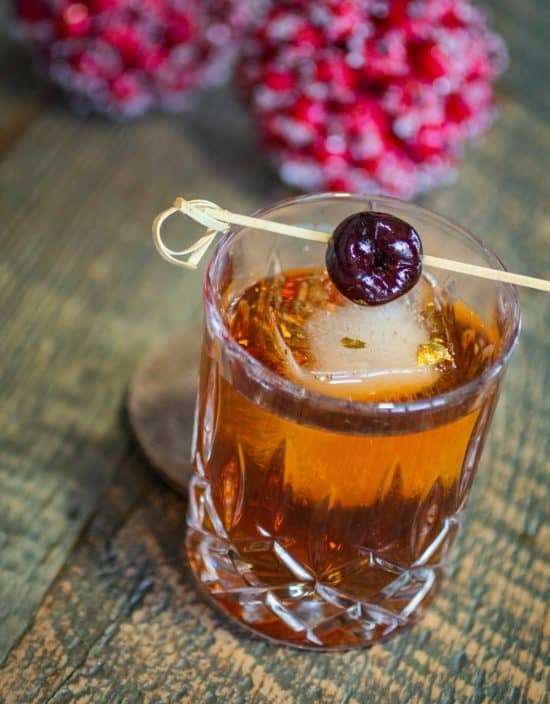 Bougie Bootlegger
Leopold's Select 4 year Bourbon C Lazy U Barrel, Carpano Antica Sweet Vermouth, Saffron and Angostura bitters, Gold Leaf Ice Block
The lavish top-shelf Manhattan features the ranch's exclusive supply of newly-released Leopold Bros. Cask Select Four-Year Straight Bourbon.
By working with local Colorado farms to grow heritage grains, such as Abruzzi Rye, and malting two-row barley onsite, Leopold Bros. is restoring expressions of a bygone era dedicated to the highest quality, much like C Lazy U's dedication to keeping the spirit of the American West alive and thriving.
With the $100.00 purchase of this one-of-a-kind drink, you will receive an engraved keepsake glass. C Lazy U's nonprofit partners, Drifter's Hearts of Hope Horse Rescue and The Colorado Horse Rescue, will share a $50 donation as well.
Historic Milestones for the C Lazy U Ranch
1919
First guest houses built on the property which was then known as the F Slash Ranch, owned by Wilson Smillie, and run by his brother Aubrey Fenton "Jack" Smillie.
1920
Jack Smillie buys the F Slash from his brother Wilson.
1925
The Smillies build the initial barn and several other structures to accommodate two dozen guests.
1945
The Smillies sell the guest ranch in the late summer.
1946
Dick and Katie Schoenberger purchase the ranch and rename it C Lazy U after the shape of the Willow Creek which meanders through the property.
1947
Construction of the Lodge begins.
1948
Two wings are added to the Lodge to welcome the arrival of guests in the winter.
1949
Marion Palmer arrives at the ranch and establishes the children's program which remains in place today.
1955
Head wrangler, Dawn Cone starts working at the ranch until his retirement in the mid 1990s.
1957
The Patio House and swimming pool are built.
1958
Clark and Peg Murray visit the ranch for the first time.
1963
Dick Schoenberger dies suddenly.
1973
Katie Schoenberger sells the ranch to George and Virginia Mullin who met at the ranch while on their honeymoon.
1988
Clark and Peg Murray purchase the ranch.
2008
Clark and Peg Murrays' son, Brian, announces a new, extended partnership of families who have a collective commitment to preserving and revitalizing the C Lazy U as one of the last great American western experiences. The families are the Murrays, Jacobs, Singletons and Bailey-Stanfords.
2011
The Jacobs and Murrays families sell their ownership interest to the Singleton and Bailey-Stanford families.
2016
The C Lazy U begins a multi-year $10 million renovation of the entire property.
2018
Construction of the new Latigo Meeting Room and Adega Wine Room is completed; complete renovations of all guest cabins and upgrades to the Main Lodge are finished, just in time for the ranch's centennial celebration.
2019
The C Lazy U Ranch celebrates 100 years in operation!
Historical Photo Gallery