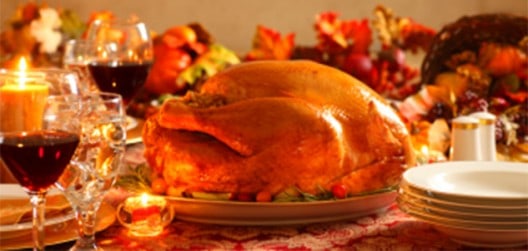 A family-owned ranch for 95 years, we look forward to celebrating Thanksgiving and the beginning of the holiday season each year with our ranch friends and family. We may be biased, but we don't think there's a more perfect place to celebrate with your loved ones than C Lazy U guest ranch in Colorado!
Thanksgiving at C Lazy U is complete with all the traditions and trimmings, but free of the stress that often comes with hosting a large holiday affair. As our guest, you'll enjoy time with your family, a gourmet turkey feast on Thanksgiving Day, all additional meals and activities such as horseback riding, hiking and if the snow's ripe, cross country skiing, snowshoeing, tubing, ice skating and hockey on the ranch's Zamboni-groomed pond.
The Cowboy Carnival, in our indoor arena, is a guest favorite. Taking place in the evening, this event brings all ranch guests and employees together to enjoy live music, drinks and snacks, along with a medley of carnival activities perfectly suited to cowboys, such as BB gun shooting, archery, horseshoes and hatchet throwing.
C Lazy U often hosts talented musicians (such as summertime favorites and Grammy award winners Monty Powell and Anna Wilson), and Thanksgiving is no exception. This Thanksgiving, guests at the ranch will be privy to the music of Scott Thomas. He's performed at Super Bowls and jammed with the legendary Steve Cropper and Charlie Daniels. He is passionate about all genres of music, and is sure to deliver a performance to remember.
If you won't be celebrating Thanksgiving with us this year, we hope to see you during Christmastime, or in 2015.
Wishing you a wonderful holiday, from our family to yours!