The snow is melting and I can see my hooves again! Spring is officially here-the cowboy boots are getting brought out again, snow boots are being stored away for the season, people are walking around in their t-shirts, and most importantly, I'll be making my semi-annual trip down to Denver to support my favorite baseball team, the Colorado Rockies, this weekend (I have to say, I'm a little nervous though, as I heard the managers talking about bringing me in from pasture a day early to hose me off and brush me down… I shudder at the thought!).
On the note of my trip to Coors Field, if anybody is going to be going to opening weekend, I will be there and out and about on Friday and Sunday that weekend, saying hello and posing for pictures with my adoring public. And even better than that (that's how the management is billing this next bit, but I say, "What can be better than a picture with Petey?") is the contest that we're hosting, involving me: Petey Paparazzi! I've included a picture of the 3″x5″ card that we'll be handing out at the game both Friday and Sunday (staring yours truly), so if anybody wants to stop and enter to win a trip to see me, I'd love to meet you!If you won't be at the game, abut you have a really great picture with me from one of your trips, that works too- submit it and see what happens!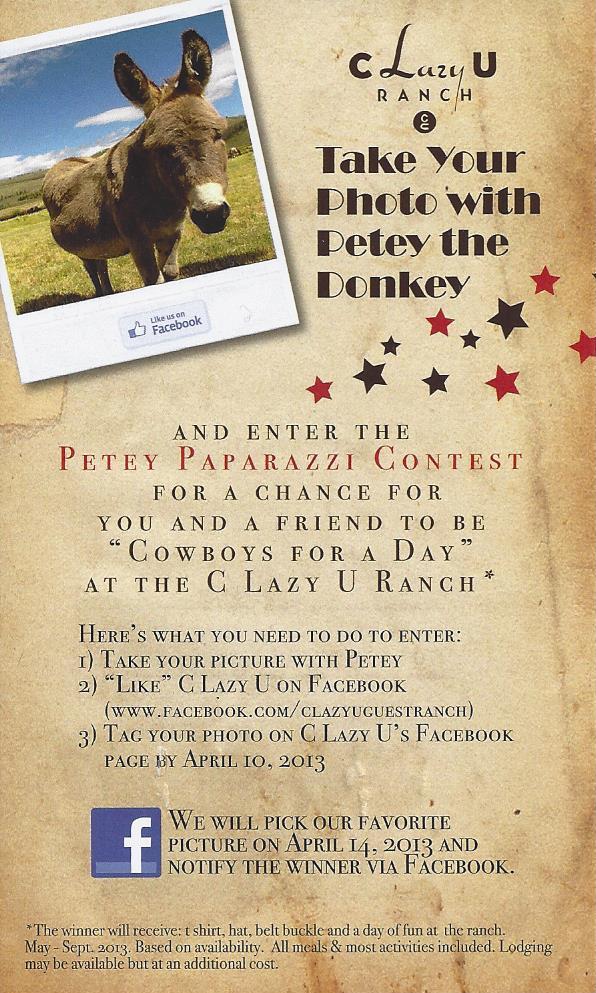 I hope to see you at Coors field, or this summer! Not booked your horseback riding vacation yet? I've heard that space is filling quickly, so if you want a spot, give our reservations department a call at: 970-887-3344.